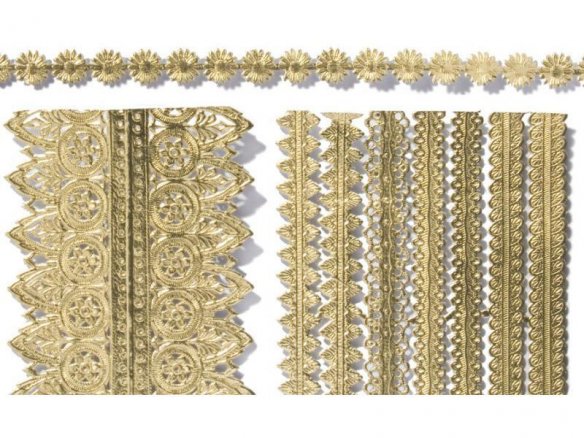 white cardboard, both sides covered with aluminium foil, embossed, information given is the approximate size of the individual pieces (l x w) and the number of pieces per sheet
These attractive, very finely embossed galloons can be used to beautify things like cards and table decorations as well as photo albums and scrapbooks. The pieces, which are punched cardboard laminated with aluminium, are manufactured on nearly antique machines and are thereby a real rediscovery.
The two strips of "borders" can also be used together as one piece that will be 70 mm wide because it is joined at the middle. As an example, they can be folded at the middle and fitted around an edge and glued there in place.
Stamped cardboard pieces, embossed, galloons, set, 270 x 2-15, 4 sorted types, 7 pieces, gold