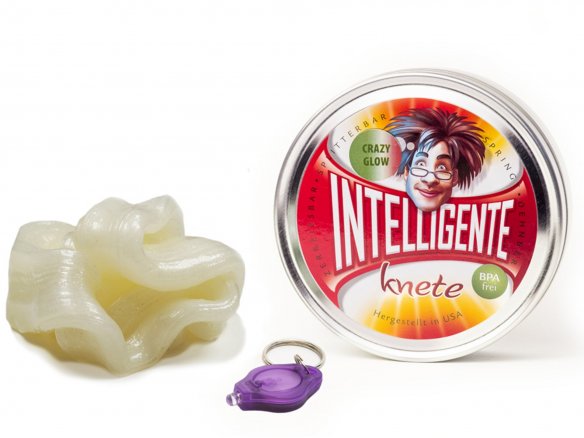 glow in the dark
Bounces like a bouncy ball
dissolves
stretches like chewing gum
can scatter into many individual pieces
does not stick
odourless
Knead without residues
This Intelligent Putty version called Glow-in-the-dark has all the same attributes as the basic Thinking Putty but with the added feature of being fluorescent and, yes, glowing in the dark - and this in completely crazy colours when they have been "charged" with ultraviolet light.
It bounces like a ball, it stretches out like chewing gum, it "melts" and it can even be torn like a piece of paper! If, for example, you smash the Thinking Putty with a hammer it bursts into thousands of pieces like a piece of glass. If, however, you want to create the shape of a figure and leave it in that form for a while you will be out of luck because over time this putty will "melt" and become soft and will lose its shape.
Thinking Putty is great for stress relief, as an aid for quitting smoking, for training your hand and finger muscles and, of course, is an unbelievably fun toy for both big and small! In addition, it is indeed BPA-free, low in harmful substances per German guidelines and absolutely odour-free. Be careful, though, it can be addicting! It will also never dry out!
Thinking Putty, glow-in-the-dark, crypton, BPA-free