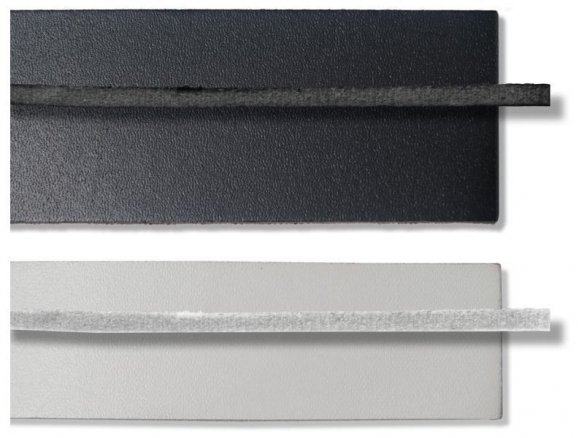 leather thickness ca. 2.6 – 2.8 mm, smooth, solid colour (soak-dyed), fine grain, matte, with even surface, resistant to abrasion, mineral tanned
In order to get multiple leather layers from a thick hide, it is split into layers, starting from the rough "flesh side". The split hide layers are rough on both sides and are called "split leather". By sanding it, split leather can be further worked into suede leather or variously processed according to a manufacturer's needs: it can be primed, dyed, embossed or provided with a glaze or other finish.
The split leather strips at Modulor come from Southern German and Austrian rawhides and are tanned in Europe. They are dyed with pigmented dyes. This leather has a surface that wears extremely well and is easy to care for. If the surface gets dirty it can be cleaned with a wet cloth and neutral soap solution. The cut edges are stable and sturdy, requiring no further treatment.
Because of the even surface as well as the very limited extensibility of the leather, these straps can be used confidently for making belts. In order to have enough play, a 30-millimetre belt buckle should be used with a 28-millimetre wide strap and for a 38-millimetre wide strap a 40-millimetre buckle should be used.
Split leather straps, coloured
4 Variants