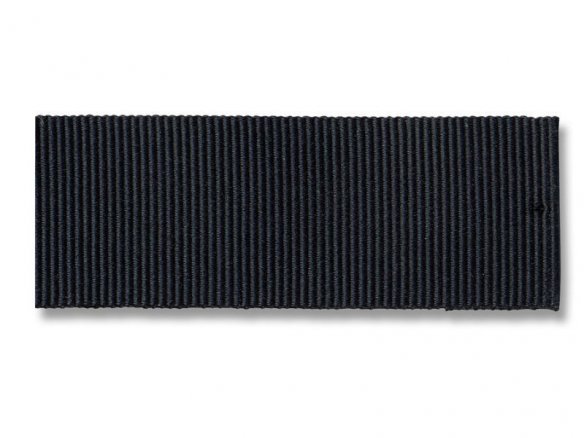 100% polyester, repp weave, weight: app. 6.2 kg/1000 m in w = 25 mm, woven border, finished with the customary glaze
This ribbed ribbon made from woven polyester thread is extremely hard-wearing and has many uses: its classic use is as a hat band in the clothing industry, as a fine belt for handles or for bordering the edges of a material. In addition, it can be used as the carrier material upon which to sew a hook and loop tape.
The repp weave is a special but simple technique in which not one but two threads are pulled through the open warp threads with the result that weft threads, when the weaving is completed, slide over the warp threads and cover them. In the case of a normal plain weave, if the warp threads are damaged the weave will quickly break apart in that area. That is not the case with the repp weave because the weft threads, by covering the warp threads, stop this unravelling or at least slow it down. Weaves of the repp type are therefore especially durable and are primarily used as a furniture covering material.
Ribbed ribbon, polyester, th=app. 0.4 mm, w=25, 10 m roll, black
Note
In rare occasions it can be that tapes in lengths starting at 50 m (as a result of production processes) will have two interface points. Please consult one of our staff if you require a uniformly continuous tape.