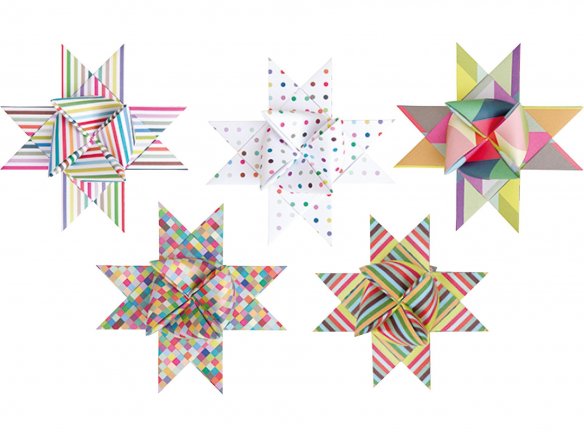 60-piece paper strip sets (20 strips measuring 25 x 860mm for Medium size stars; 40 strips measuring 15 x 450 mm for Large stars; 5 different decors, paper grammage is ca. 120 g/m²), for folding into 3D advents stars: 5 Large (ca. 150 x 150 mm) and 10 Medium (ca. 60 x 60 mm
The "Fröbelstern" (named after Friedrich Fröbel, the founder of the kindergarten movement) has many names in English, including Advent star, Danish star, German star, Nordic star, Pennsylvania star, Polish star, Swedish star, Christmas star and sometimes even Froebel star! It is a real evergreen (it endures!). It is made out of four paper strips (with a width-length ration of about 1:30) that are folded into a three-dimensional, angular star.
Instead of using the usual aluminium paper (foil) or wood or other (more of less decorative) papers, we would like to propose that you make your good old Froebel star using these extraordinarily printed paper strips. It goes without saying that these multi-coloured paper sets can also be used for many other handicrafts and decorative purposes.
Paper Poetry Advent Star, patterned, 40 paper strips M, 20 strips L, Multicolor Mix