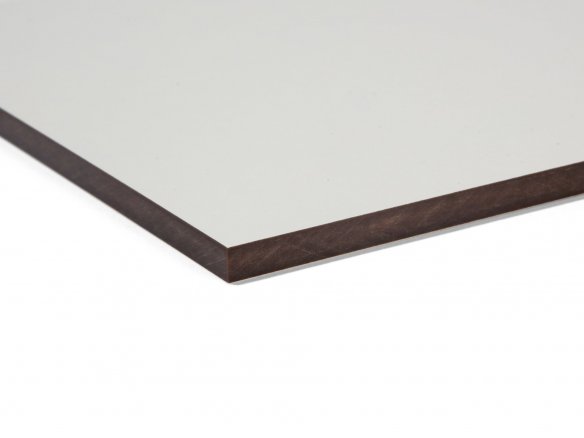 Extremely durable
Weatherproof
UV resistant
Impact- and shock-resistant
Scratch-resistant
Outstanding level application
Storefront quality
Core material

phenolic resin impregnated cellulose layers, dark brown

Cover

cellulose layers impregnated with melamine resin, matt white

Density

≥ 1.35 g/cm³

Reaction to fire

B2 according to DIN 4102, normal flammability, EN 13501-1 Classification E

CE-marking

tested in accordance with DIN EN 438 for outdoor building products
In the manufacture of HPL (High Pressure Laminate) panels, cellulose fiber layers impregnated with phenolic resin are pressed into a dense, heavy panel at high temperatures under high pressure. The outside layers are impregnated with melamine resin.
The homogeneous material with a closed surface is weatherproof, scratch- and impact-resistant, extremely stable in shape, and also has good UV- and heat-resistance. This makes the all-purpose panel a durable building material that can be used indoors and outdoors, as well as in dry and humid areas (kitchen, bathroom). Owoplan Plus can be used as visual protection, as a partition, or for cladding (such as facade/balcony panels, vehicle construction, trailer bodies).
The laminate panel can be processed with all the usual woodworking machines. For sawing, a circular saw with a carbide-tipped saw blade is recommended, and holes can be drilled successfully with an HSS twist drill.
HPL should be mechanically connected, preferably with screws. Alternatively, one can use silicone, mounting adhesive, or epoxy resin for adhesive joints. The surface can be cleaned with acetone, cleaning solvent, or pure alcohol.
Custom cutting available. Choose your desired size! For more information about our custom cutting service, please visit Modulor Services.
Owoplan Plus high pressure laminate (HPL) sheet, 6,0 x max. 1300 x max. 3050 mm, white