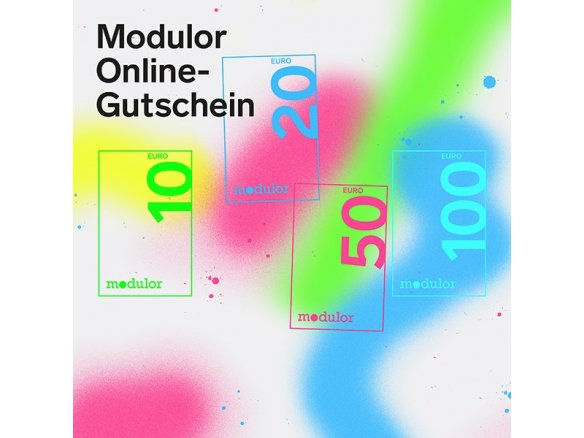 Online vouchers for the Modulor online shop
Voucher PDF for self-printing or forwarding
10 €, 20 €, 50 €, or 100 € voucher value
Not redeemable in-store
Features

one-page PDF in German (when ordering in the German shop) or English

Delivery

by email within max. 1 hour
The next birthday, wedding day, name day, public holiday, or today-I-do-something-good-for-myself day will definitely come — and sometimes faster than you would like. All the better if you can quickly adapt, and you can do everything right with a Modulor online voucher. It's quickly in your inbox and is easy to redeem in our versatile online shop.
Modulor vouchers can be redeemed in our online shop  modulor.de. However, these vouchers cannot be used in our physical store. Vouchers for use in-store are available on-site.
Please note that you cannot buy our online vouchers in advance or on a Modulor invoice. Cash payment of the voucher value is also not possible. The online voucher that you receive as a PDF is like cash: Modulor is not liable if you lose the voucher PDF or if it becomes unusable. In addition, the online voucher is excluded from revocation / return.
The value of the online voucher can be € 10, € 20, € 50, or € 100. You can order several and different online vouchers at once. Put each voucher value in the desired number in the shopping cart before you select the next voucher value. You can, of course, also add other articles from the entire online shop to your online voucher order.
After your order, you will receive an order confirmation. Within one hour, you will also receive a separate email for each voucher ordered with the appropriate PDF voucher as an attachment. If you pay via Paypal, you will also receive your voucher within one hour, but it can take up to 24 hours until it is active and usable. If you order in our German online shop, the vouchers are written in German. If you order in the English, Spanish, or Italian online shop, the vouchers are written in English.
You can redeem your online voucher alone or together with other Modulor online vouchers. Before you redeem the voucher or give it away, read the information on the voucher PDF completely. We hope you enjoy!
Modulor Online Voucher
4 Variants