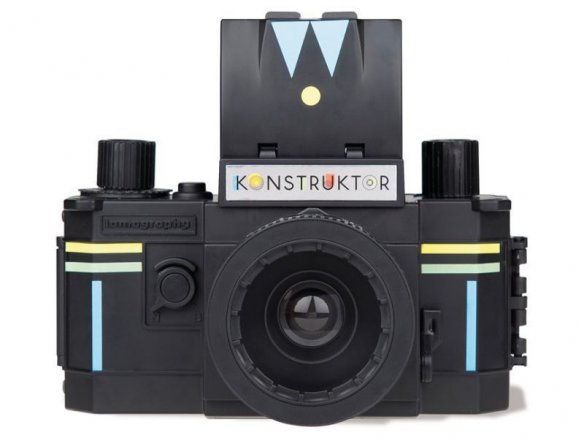 assembly kit for a 35 mm single-lens reflex camera (SLR); (changeable 50mm f/10 lens; shutter speed: 1/80s with multiple exposure function; focus: 0.5 m to infinity), flash adapter, black plastic (ABS), colourless POM plastic, transparent; leather sticker coloured and self-adhesive, film not included, includes multilingual operating instructions, given dimensions : h x w x l (when assembled)
How exactly does a "photo apparatus" work? The Lomography Konstruktor DIY kit is an assembly kit for a completely functional single-lens-reflex (SLR) camera. During the construction, which takes from 1 to 2 hours, it becomes clear how the camera works and in doing so also reveals the process behind analogue photography in general.
The camera consists of black or transparent plastic. Coloured removable leather stickers are included as a means for personalizing the appearance of your camera. Despite its simplicity, the camera is fairly versatile. It has an "N" and "B" mode (for normal and long exposures), has a tripod mount (to prevent movement during long exposures) and supports multiple exposures as well.
The assembly kit does not include film but any standard 35 millimeter films will work; for example the LOMOGRAPHY NEGATIVE FILM 400 ASA which can be ordered separately.
Lomography Konstruktor DIY Kit for SLR camera, 33 × 65 × 121 mm, black (w/o film)
Accessories and Related Products