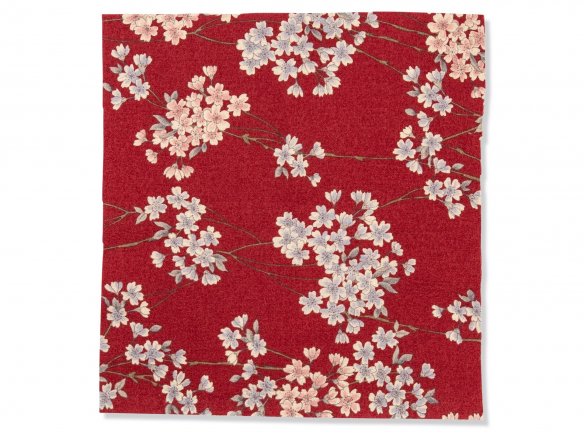 traditional pattern with blossoming cherry branches
Japanese crepe printed on one side
100% cotton
made in Japan
Material

100% cotton, crepe texture, printed on one side

Colour

blooming cherry branches white/beige/grey, on coloured background

Dimensions

effective width ca. 1100 mm, doubled over

Care and maintenance

washable at 30°C but texture will be lost
Chirimen is a crepe-like cotton or silk fabric with a rough, grainy (bumpy) surface texture. The texture is the result of a special weaving technique (developed in the 16th century) in which the weft threads are twisted to such an extent that they tend to pull together during the weaving process.
Japanes crepe is primarily printed with traditional Japanese patterns like Sakura, i.e. cherry blossom motifs, which stand for beauty, awakening, loyalty and transitoriness. They are suitable for use in making kimonos, modern clothing, bags, purses, pockets or cords.
Please note that the crepe texture will disappear when washing the material.
Japanese kimono fabric, Sakura Chirimen (blossoms)
2 Variants
Accessories and Related Products