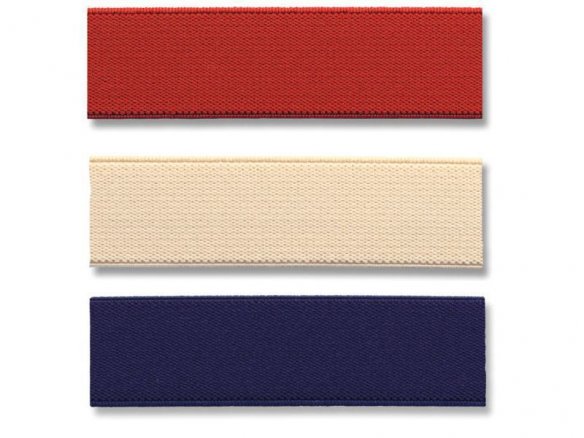 one side coloured, ground warp is white, 79% polyester, 21% synthetic elastomer (rubber), elongation to approx. 70%, weight: approx. 13.0 kg/1000 m in w = 18 mm, woven border, finished with the customary glaze
This band is basically the one used for making the classic suspenders (braces) for pants which can be attached to any of your pants with their special clips. In our opinion, however, this band has much more potential: possible uses include fasteners for folders, boxes and books, simple reisitance bands for exercising or special applications in the fields of decoration, trade show and exhibition constructions, etc.
The specific expandability of this material is the result of the use of a combination of elastic threads in the warp and inelastic polyester yarn in the weft. When you pull on the band, the elastic threads expand up to the point where the polyester weft threads start express their resistance. When the band is subsequently released, the elastic threads constrict whereby the polyester threads return to their original gathered condition. The elastic warp threads are wrapped in polyester yarn before any weaving is done so that they will not end up rubbing too much against the polyester weft threads.

Elastic braces, coloured, narrow
2 Variants