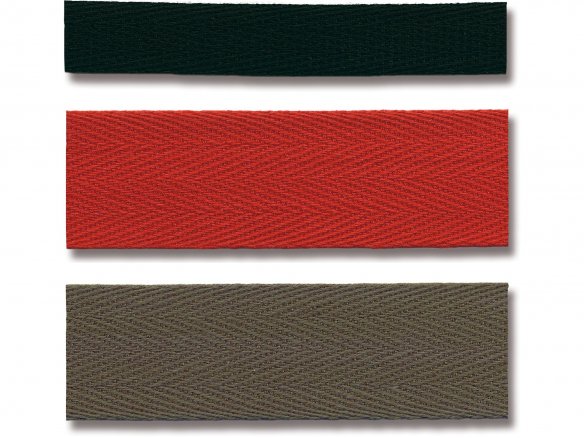 100% cotton, twill weave (herringbone pattern), weight: approx. 3.5 kg/1000m in a width of 20 mm, woven edges, has the usual commercial finish
This soft, flexible but sturdy cotton twill tape can be used in any number of ways. In garment production it is used to border the edges of a material, in the furniture industry it is used as a seam tape, in bookbinding type work it can be used in the making of presentation folders or for making a fastener for a book and box.
Twill is one of the basic types of weaves. It is immediately recognizable by its herringbone patterned or one with diagonal lines. The most well known twill weave fabric is denim, the blue-white jeans material. In the case of different coloured warp and weft threads, the overall colouring of the material is determined by which thread lies on top as the weave is made on a machine or a loom or, alternatively, which thread predominates in the warp. Depending on the binding method or the thickness of the thread, twill can be dense, smooth and hard-wearing but also soft and fluffy.
There are many variations and derivative forms of the twill weave: as an even weave, complicated weave, wide wale weave, steep wale weave (e.g gabardine), uneven twill weave, herringbone weave, broken twill weave.
Cotton twill tape, coloured
12 Variants
Note
In rare occasions it can be that tapes in lengths starting at 50 m (as a result of production processes) will have two interface points. Please consult one of our staff if you require a uniformly continuous tape.