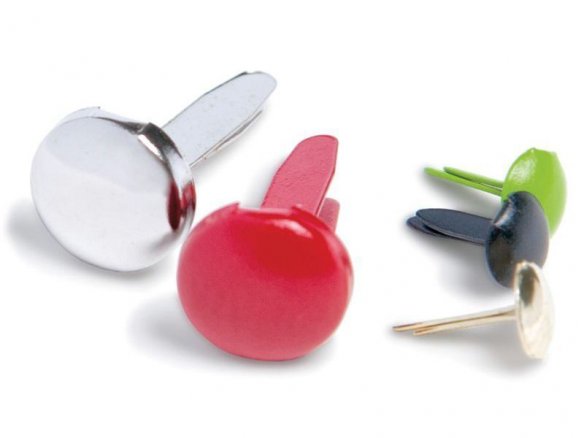 round, domes heads, matte colour (exceptions: when given), given dimensions: diameter of the head and length of the legs, comes in plastic box
"Brads", which are also called paper fasteners or split pin fasteners, is a commonplace term in Scrapbooking circles where they are mostly used in order to accentuate some feature or to attach small paper motifs onto cards. They are also use to close up pouches or gift bags - and here one might aver that the difference between a brad and a lowly paper fastener is evident: or, to put it another way, brads are basically elegant, i.e. "chic" paper fasteners that come in chic colours and/or with a motif on their heads. 
Further possible uses include serving as the attachment point for sample fans or as "flip" books fasteners or any other kind of stacked paper for that matter! Creating customer or promotional gift bags or fastening folding cards are also within their range!
The easiest way to use them is to make a small hole in your paper with a punch (about 1.5 mm - think SINGLE HOLE PUNCH), stick the brad through said hole and spread the two legs. However, the annoying search for a hole punch is not really even necessary: you can just make a small cut with a scissors or an artist´s knife or even just plunge a sharp object into the paper - the brad will surely pass through it enough for spreading!
Brads (paper fasteners)
6 Variants