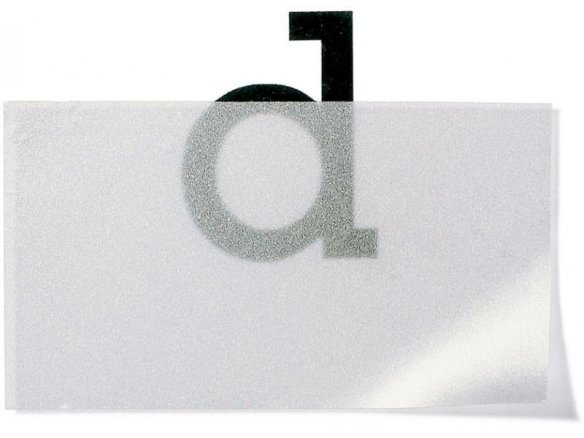 colourless, matte finish, plasticized PVC, th = 0.08 mm, permanent UV stabilized acrylate adhesive (adhesive strength ≥ 5,5N/25 mm), paper release paper 150g/m², inner diameter of roll core is 76 mm
This glass décor film gives the impression of glass that has been etched or sandblasted to create a matte finish but it still allows 90% of the visible light spectrum to permeate it – it is, then, opaque, absorbs comparatively little light and has a good looking surface to boot. Letters or other types of figures cut out of it by hand or with a plotter cutter make a correspondingly impressive appearance when glued to glass doors or display windows. This film can also be used if you only want to make a bathroom door opaque but not light-proof.
This film can be worked with both dry and wet. The coat of adhesive is very finely textured and has what could be called "air channels" in its coat– this accounts for the fact that it cures bubble-free because entrapped air has a way to escape.
When working with the film wet, it can be that a white haze may develop in some areas – this, however, will eventually disappear after at the most a couple of days (usually after 24 hours). Wet gluing allows you to better reposition the film when attaching it – a capability that is especially important in the case of large area gluing work. Because of the matte finish (rough) the film cannot be optimally cleaned; it is also not resistant to organic solvents. It is easy to cut using an ARTIST KNIFE or a SCISSORS and takes well to plotter and screen-printing processes.
This film is weather resistant for five to seven years when in a vertical position outdoors in a normal Middle European climate.
Glass décor adhesive film LK-1, translucent
2 Variants
Note
Please note that products cut from rolls cannot be exchanged and the minimum order amount for such products is 0.5 running metre.