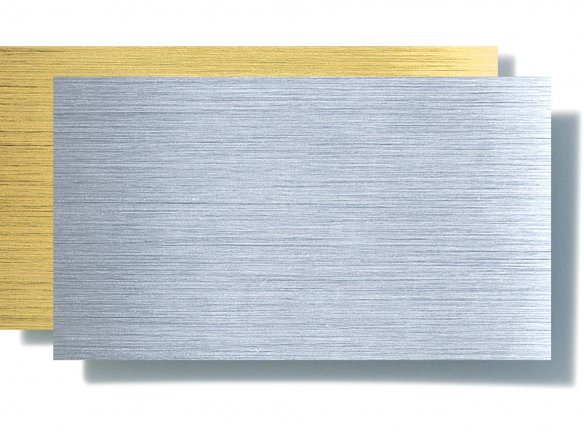 Decorex series, glossy, metal/PVC composite film, th = 0.075 mm, solvent-free acrylate adhesive (adhesive strength ≥ 5N), paper backing is 120 g/m², inner diameter of roll tube is 76 mm, flame resistant per DIN EN 13501-1, conforms to DIN 4102 B1
The adhesive film D-MXD, which is part of the Decorex Series from X-Film, is a metal/PVC composite film. This film is available in a width of 610 mm by the metre.
The manufacturer recommends that the X-Film D-MXD only be used for the short term outdoors. The X-Film D-MXD coloured film is primarily used indoors (trade show construction, advertising displays, signboards, etc.). Because of the high gas density, gluing on plastic can be problematical.
When working by hand, the film can be nicely cut using a shears, a blade or an artist knife. D-MXD takes very well to screen printing and also lends itself to being worked on with a cutter plotter. Note: it should not be wet glued.
X-Film D-MXD metallic adhesive film, brushed
4 Variants