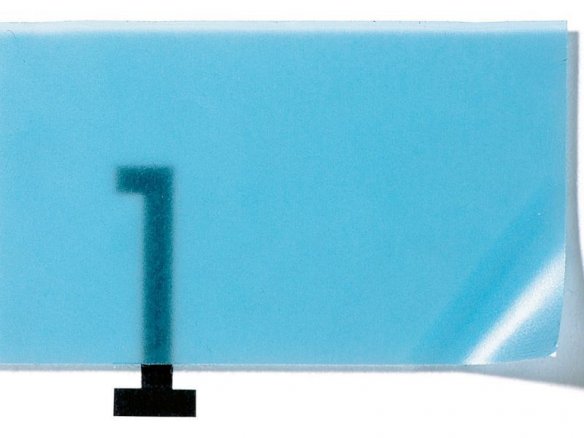 PVC, th = 0.08 mm, permanent and solvent-free acrylic adhesive (adhesive strength 18 N/25 after 24 hours on glass; 16 N/25 mm after 24 hrs on acrylic glass), temperature resistant –40 °C to +90 °C, paper release liner is 137 g/m², inner diameter of roll core is 76 mm
As a weather resistant film, the 8500 version of the Oracal coloured adhesive film collection with its semi-gloss, non-reflecting surface can be used for multiple purposes outdoors – for example, for lettering on the side of a car. When gluing it to an auto's paint, however, it is recommended that you test the viability in advance (somewhere inconspicuous) or ask the automobile manufacturer in order to prevent any damage to the paint job. Because of its translucence and uniform colouring (harmonious daytime and nighttime effects) the Oracal 8500 is perfect for back-lit advertising signs or window decorations whereby it should be noted that the permeability of light directed towards a dark background will be less than toward a lighter one. Indoors, this film can be used with practically no limitations.
The manufacturer guarantees this film's weather resistance for up to four years (colours and metallic colours) or, alternatively, up to five years (for black and white) when the film is employed in a vertical position and exposed to normal Middle European climatic conditions. The manufacturer also guarantees a short-term heat resistance of up to 80 °C.
This film can be easily and precisely cut with a scissors, cutter or artist knife. Like almost all Oracal adhesive films, both a plotter cutter and a screen printer can be used with this film successfully. The manufacturer recommends that when wet-gluing, your water should contain no additives. Also note; this film's MATTE FINISH is not as easy to clean as the glossy version!
Oracal 8500 col.adhesive film, translu. semi-gloss
16 Variants
Note
Please note that goods from rolls cannot be exchanged and their minimum order amount is 0.5 running meter.