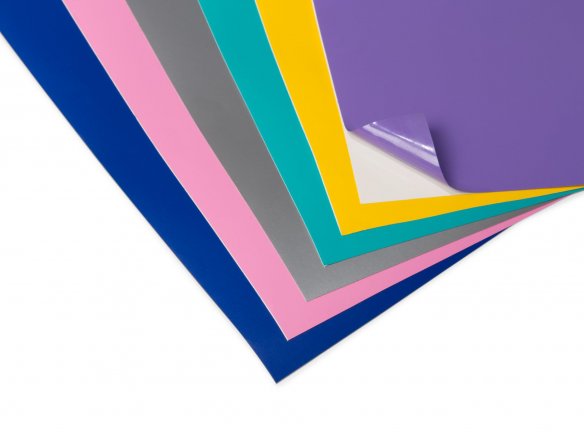 PVC, th = 0.08 mm, removable acrylic adhesive (adhesive strength 7N/25 mm after 24 hours), temperature resistant –40 °C to +80 °C, paper release liner is 137 g/m², inner diameter of roll core is 76 mm, flame resistant per German industry norm DIN EN 13501-1), corresponds to DIN 4102 B1
This matte coloured adhesive film is very versatile: for example, it can be used as a lettering and laminating film in trade show and store constructions, as an interior decoration film or used for outdoor lettering if its intended use is only for the medium term. When employed vertically outdoors, its service life is about 3 years under normal Middle European climatic conditions. The durability of the film and its ability to be removed can both be negatively influenced by environmental conditions (strong UV exposure, high humidity, atypical locations). Beyond that, a film's colour may also become less bright.
This film can be easily cut with a scissors, cutter or artist knife. Working with it on a plotter cutter is likewise easy to manage because of its stable flatness while it can also be successfully screen-printed as well. The manufacturer recommends that when wet-gluing, your water should contain no additives. Also note; a matte surface is more difficult to clean than a glossy one.
Oracal 631 coloured adhesive film, opaque, matte
48 Variants
Note
Please note that goods from rolls cannot be exchanged and their minimum order amount is 0.5 running meter.