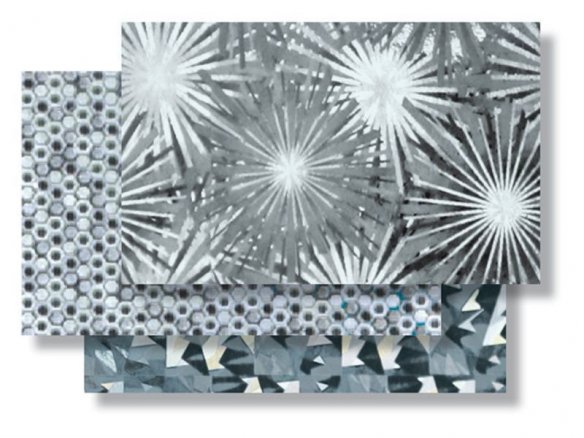 PVC film printed on one side (holographic effect), glossy, self-adhesive on one side, th = 0.05 mm, paper release liner
The films which come under the heading holographic self-adhesive film have an iridescent, metallic shimmering pattern on one side. Depending on the viewing angle and the lighting, different colouring or sometimes three-dimension effects appear. Holographic adhesive fims can be glued to all flat surfaces and are great for making glittering decorations, cards or book covers. This film is especially liked by children who just love to cut out their own stickers out of it.
The "Glitter" version is available in many brilliant colours that, due to being enhanced by glittering particles, will also constantly change with the light. The "Centauri", "Champagne", "Radial", "Crystal" and "Aquarius" versions only come in the monochrome colour silver but the shimmering and glittering effect is still produced by any change in the light. They are also very impressive because of the sense of depth they impart.
Holographic adhesive film, sheet
30 Variants