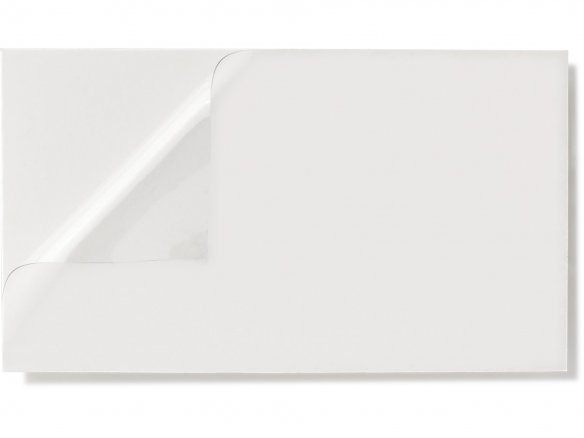 calendered soft-PVC, glossy, laminated on carrying board (200 g/m²), temperature resistant from -5 °C to +70 °C, indoor durability is 3 years, outdoors only 1 year
Adhesion film is a calendered, cadmium-free soft-PVC film which through molecular adhesion is able to stick to smooth surfaces without glue (e.g. window glass). The longevity of the film when used indoors is up to three years and in the outdoors up to 1 year in temperatures between -5° C and +70° C.
In order to attain a good amount of adhesive strength, the intended surface for application of the foil should be as smooth, clean and dry as possible. Cleaning with glass cleaner to remove any grease or other impurities is strongly recommended.
The film can be used in any number of ways: display window advertizing, decoration, lettering, surface protection (e.g. the display window on mobile phones), temporary advisory signs, pictures in windows (e.g. Christmas decorations), etc. For use in the realm of toys the film is certified as per EN 71/3.
For convenience when working with the adhesion film, it comes laminated to a smooth carrier board (200 g/m²). That way the films will not stick together when stacked, they can be easily cut (shears, blade, guillotine shears) and can be screen printed with PVC compatible inks without any problem (as an alternative method, UV offset). When attaching the film the ambient temperature should be 20° C because the film tends to lose its adherence when too cold.
Adhesion film, transparent, colourless
3 Variants
210 mm x 297 mm
297 mm x 420 mm
700 mm x 1000 mm