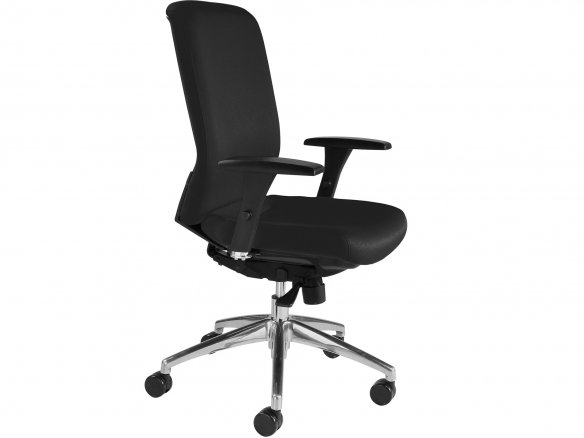 chair: star base made of aluminium, highly polished, plastic double castors (diameter 60 mm) for carpeted floors, cloth cover is made of modacrylic fibres, abrasion cycles: >35 000, adjustable asynchronous mechanism, upholstered seating area and chair backrest are adjustable, pressure regulated backrest, maximum load is 125 kilograms, weight: 19 kg, seat height from 47 to 57 cm; given measurements are seat height x width x depth; armrests: pivoting, with height, depth and width adjustor
The office chair RD 944 from the company Rocada is a wonderfully comfortable chair that is especially appreciated by people who have to sit the whole day long at a desk. It is furnished with elementary functions like seat suspension, padded seating area and (very high!) backrest but also has an adjustable asynchronous mechanism. This mechanism drives the seating area and backrest to produce a posture that runs the gamut between an upright, active one to a backwards leaning, relaxed one. As a result, ergonomic and balanced sitting posture is guaranteed. If necessary, the mechanism can also be locked in place. The variably adjustable armrests makes this office chair even more comfortable. Our modulor offices are equipped with the RD 944.
In addition to the ergonomic factors that are so important for a classic office chair, the design characteristics involved in implementing them are also crucial. With this RD 944 office chair we are able to offer an excellent quality office chair at an attractive price and one that, despite its ergonomic versatility, has an unobtrusive appearance that also, for example, looks great in front of an E2 table frame.
Rocada office swivel chair RD 944, w/o arm rest, 470-570x500x470mm, black, hard rolle