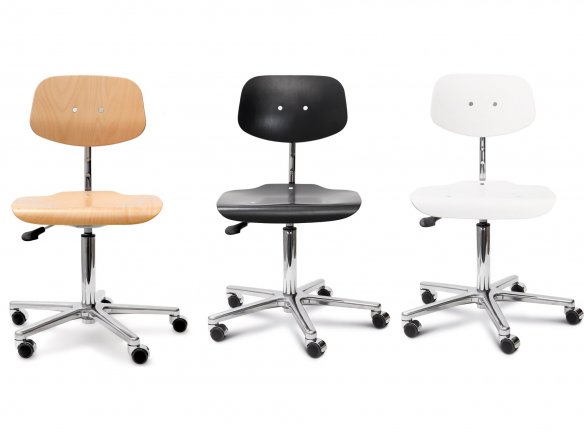 Made in Germany
High quality and very durable
GS symbol (tested for safety)
Height adjustable
Base

made of polished aluminium with die-cast aluminium rollers

Seat and backrest

made of 8-fold glued beech laminated wood s = 8 mm, stained and varnished

Particular feature

Adjusting screws made of die-cast aluminium

Seat height

450-630 mm

Width

480 mm

Depth

415 mm

Weight

approx. 9 kg

Warranty (German)

5 years
A healthy posture when sitting at work is the main concern of the Modulor office swivel chair. It corresponds to the office chair norm DIN 68877 and proudly displays the GS (Proven Safety) symbol. You can be assured of long term use by two guarantees: a general one for 5 years as well as a replacement parts guarantee for 10 years.

The Modulor office swivel chair is built according to a modular construction system comprising of a star-shaped base, a gas-filled telescopic strut, a seat support that includes the adjustment mechanism and the two seat pans. All parts are designed to be screwed or plugged into place and, if necessary, can be easily and separately replaced. The castors provided are soft for use on hard flooring.

The ergonomic construction of this office swivel chair promotes so-called "dynamic seating", which means that, because of its adjustable elements, it is possible to change your sitting posture often, which has the advantage that unilateral stresses on muscles or intervertebral discs can thereby be reduced. The "dynamics" consist of the weight-dependent adjustable backrest adjusting itself to the various sitting postures so that it moves with the upper body and thereby provides effective support for the spinal column. The backrest can of course be locked into place at any position one might desire. Furthermore, the fact that the seat can also be adjusted to various inclinations (tilts) allows the optimum body opening angle of at least 90° to be retained at any working position. This has the advantage of, for instance, reducing the upper thigh stress during work.

Because of its distinct and low-key design, the Modulor office swivel chair works very well as the desktop chair for the Modulor Table Systems and can also be enhanced by ordering the cushion for office swivel chair.
Modulor office swivel chair
6 Variants