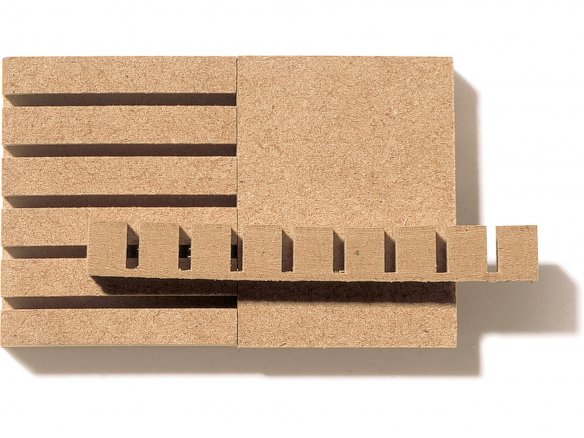 middle density fibreboard, grooved/smooth, textural configuration lengthwise: s = 7.7 mm, groove depth = 7 mm, groove width = 2,5-3 mm
These panels, which are partially cut through on one side and therefore bendable, are mainly used in furniture making, trade show constructions, store furnishing or interior work as a means of producing rounded forms and objects. Such forms and objects are often produced by means of gluing two panels together on their notched sides. In doing so, flat exterior sides are produced which can then be painted, veneered or coated in some other way. For larger pieces, it makes sense to work with a template made from particle board. This bendable panel is notched on the one side. These notches allow the panels to be bent in relatively narrow radiuses (minimum radius is 150 mm).
The panels can also be used in an unbent condition. The notches themselves can serve as small compartments in shelves or as holders for signs.
Custom cutting available. Choose your desired size! For more information about our custom cutting service, please visit Modulor Services.
MDF bendable panel, 8,0 x 3050 x 1220 mm (0344505)