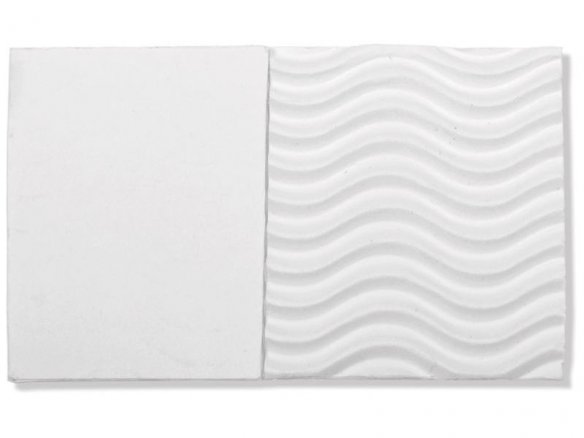 th = 1.5 mm, s(pacing) = 4.5 mm, both sides colour printed (except for natural brown and white)
After successfully marketing the single faced, coloured corrugated board, the handicraft goods manufacturers introduced the so-called 3D corrugated board into the marketplace during the 90´s. The marketing of this new corrugated board was done very professionally and further augmented through the introduction of numerous published handicrafts books ("3D corrugated board as coffee cup coaster"). Because of its extremely bemusing and interesting texture, this board is presently a very well known product.
3D-corrugated paper, one-sided, sheet, coloured, 500 x 700, white
Note
Corrugation configuration: the first measurement given as to the size of the board (length and width, e.g 1000 x 700) always refers to the dimension running parallel to the flutes. The direction of the flutes can be seen on the top and bottom liners of the board and determine its lined texture.