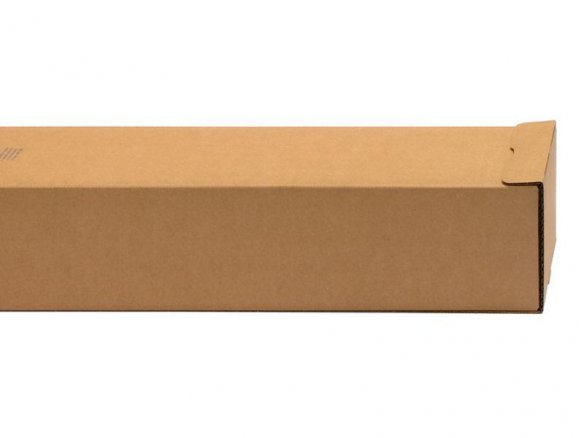 folder package made from brown/brown fine corrugated board (outer layer 1: brown testliner 120 g/m; fluting layer: corrugating media 105 g/m²; outer layer 2: brown kraftliner 120 g/m²), automatic base panels, self-adhesive and tuck-in tab fasteners, re-closable, stacks well, flat when delivered, weight: 113 g (l = 430), 148 g (l = 610), 196 g (l = 860); given dimensions: usable space (l x w x h)
Building plans, posters and large photographs can be securely mailed and stored using the lightweight Quattropac mailers, which are made from sturdy fine corrugated board.
The square profile provides plenty of interior space and protection for rolled goods, prevents the mailers from rolling away and allows them to be easily stacked. As compared to laminated paper transport tubes, Quattropac mailers, when flat and unassembled, take up about 60% less space.
By virtue of their automatic base panels, the mailers can be quickly assembled and the self-adhesive strips allow them to be securely closed up. One side has an additional tuck-in flap with which the mailer can be opened and re-closed again.
Quattropac comes with no additional materials like plastic tops or metal clips and can be thrown away in the waste paper container in a flat condition if you do not have a need to use it again.
Quattropac mailer, brown
3 Variants
Note
There are no additional freight charges for delivery of Quattropac mailers (standard size).