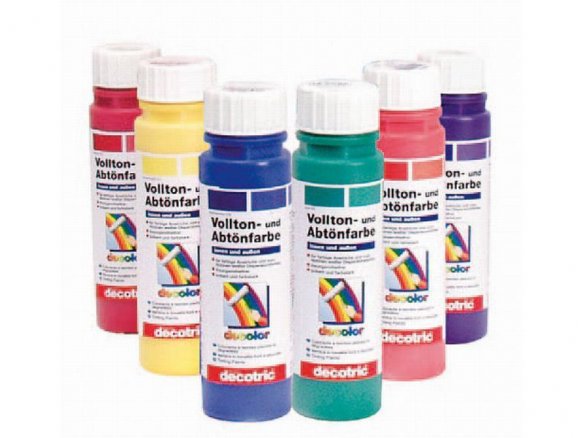 synthetic resin dispersion paint, can be used unmixed or for toning dispersion, binding, latex and other commercially available wall paints, solvent-free, semi-gloss, covers well, weather-resistant, resistant to scouring, compatible with polystyrene, UV stable, dilutable with water, uses approx. 150 - 200 ml/m²
Decolor toning pigment can be used as a basic paint that can be applied with a brush, roller or sprayer for purposes of decoration. It is not only great for shading or toning but can also be directly applied. For the first application the maximum amount of water thinning should be no more than 10% - the final coat should be undiluted or thinned with a maximum of 5% water.
The colour hues with reduced coverage capability because of their high proportion of organic pigments are: sun yellow, orange, signal red and mint (to increase coverage add 5 to 10% white dispesion paint).
Decolor toning pigment
22 Variants