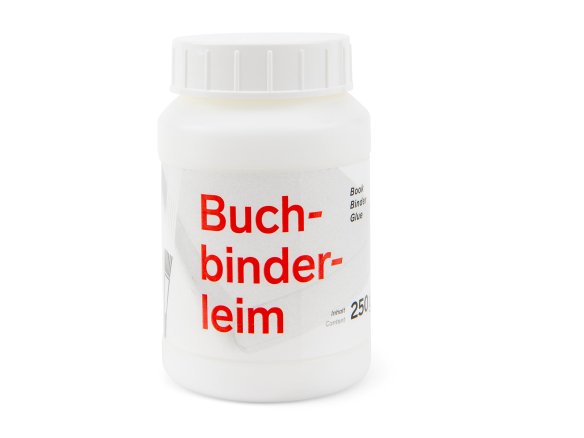 material

synthetic resin dispersion glue for paperboard, cardboard and glue binding work

End state

transparent when cured
The conclusion expressed by one of our staff members at Modulor – a trained woman bookbinder – after making a test run with this bookbinding glue was: "It does exactly what it´s supposed to do". In other words, it has a variety of uses and reliably creates the bonds you need for bookbinding work.

It is a dispersion glue that contains a plasticizer and becomes a colourless, transparent, resilient elastic film of glue when cured. The film is moisture-proof, resists yellowing and is aging-resistant. On the one hand, it can be used for glue bonds with or without gauze when making a book block and the like, or, on the other, for flat glue bonds on paper, cardboard and paperboard. When gluing plastic or paper that is coated with varnish or silicone you should switch to our Planatol AD94/5 glue.

The glue can be thinned up to 10% with water or moistened paste in order to increase its spreadability so it can be used for larger surface areas. In this case the paste alternative is better than water because the gluing strength of the mixture is thereby not decreased. Acrylic colours can be added to the glue if coloured bonds are needed, or you can add luminescent pigments – then the book spine or, alternatively, the notepad will glow in the dark!

Regarding aging-resistance: we cannot really certify this attribute because our glue was not put through the expensive testing necessary for certification but is indeed based on a synthetic resin, which on its own is acid-free and aging resistant, so our assumptions are not without basis.
Modulor bookbinding glue, Plastic bottle, 250 g