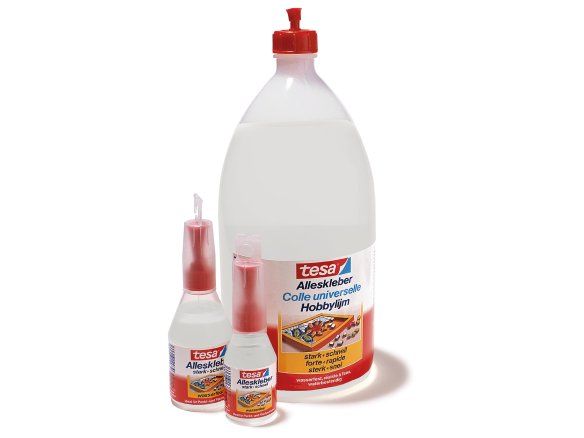 contains solvent, transparent, yellowish, waterproof, aging-resistant, rubs off of the skin
Description
Hazard warnings
Tesa all-purpose glue is especially good for gluing Polystyrene rigid foam (e.g. Styropor, Styrofoam) because it will not corrode the foam. It contains no water and is therefore especially good for making permanent bonds on paper, cardboard and paperboard. It is also great for making non-planar bonds of cardboard in model making. True to its "all-purpose" moniker, it also can be used to glue photographs, felt, cloth, leather, wood, metal, porcelain, glass and many plastics.
When cured, the glue is almost colourless, transparent, resistant to heat and cold, waterproof, lightfast, aging resistant and does not make paper wavy because it does not contain water as a solvent. It is also resistant to thinned acid and lye. If some of the glue winds up on your hands it can be easily rubbed off.
Danger, Aceton = < 50 %, Ethanol = < 25 %, (VOC-Gehalt (EU) = 62,70 %; VOC-Wert (EU) = 659,8 g/l; VOC-Wert (USA) = 659,8 g/l / 5,51 lb/gl), Flüssigkeit und Dampf leicht entzündbar, Flam. Liq. 2, Verursacht schwere Augenreizung, Eye Irrit. 2, Kann Schläfrigkeit und Benommenheit verursachen, STOT SE 3
Hazard warnings
H225: Highly flammable liquid and vapour.
H319: Causes serious eye irritation.
H336: May cause drowsiness or dizziness.
Safety instructions
P101: If medical advice is needed, have product container or label at hand.
P102: Keep out of reach of children.
P103: Read label before use.
P210: Keep away from heat, hot surfaces, sparks, open flames and other ignition sources. No smoking.
P241: Use explosion-proof [electrical / ventilating / lighting / …] equipment.
P303+P361+P353: IF ON SKIN (or hair): Take off immediately all contaminated clothing. Rinse skin with water [or shower].
P305+P351+P338: IF IN EYES: Rinse cautiously with water for several minutes. Remove contact lenses, if present and easy to do. Continue rinsing.
P405: Store locked up.
P501: Dispose of contents / container to …
Tesa all-purpose glue
3 Variants