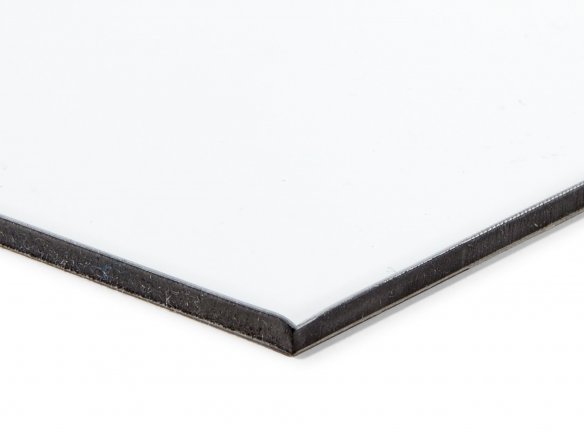 Magnetic board and laminating board, all-in-one
Very resistant to bending
Hard, invulnerable surface
Indoor and outdoor applications
Excellent digital printability
100 % recyclable
Core

Black LDPE core (Low-density polyethylene)

Surface Area

Coated on both sides with 0.3 mm thick steel plate, double-glazed, matt white/matt white, both sides with protective film

Weight

6.6 kg/m²

Properties

Magnetic, operating temperature -50°C to +85°C
The white composite panel made of magnetic steel and polyethylene is perfectly suited as a magnetic board. Especially when large areas are needed for office space, the extremely rigid, light and magnetic panel is the material of choice.
The baked enamel steel cover plate forms a very hard and resistant surface, which withstands frequent attaching and un-attaching of magnets. A non-permanent marking of the LDPE composite board is only conditionally recommended due to the matt surface. Especially with colour-intensive whiteboard, glassboard and chalk markers, a slight shade of colour can remain even after wet cleaning. We are less bothered by these residues, as they do not limit either the function or the readability.
In addition, the steel LDPE composite panel can be easily digitally and screen printed, varnished, glued with adhesive films, and fully laminated for the production of signs and stands. Photos can be effortlessly mounted with the double-sided adhesive film. The cutting edges of the panel must be protected from moisture so that the steel sheet does not corrode.
In the construction and advertising sectors, the material is used indoors and outdoors for high-stress applications such as perimeter advertising, machine cladding, or balcony panels.
Three-dimensional shapes can be produced by bending and beveling in a method called the "milled edge technique." For this purpose, a V-shaped groove is milled on the back, and a part of the LDPE core, as well as the metal cover plate of the front side, are left standing. The low thickness of the remaining material then allows a clean fold.
In principle, the steel composite panel is processed the same as the Dibond and Etalbond aluminum composite panels:
For cutting the steel LDPE composite panel, circular and panel saws, as well as table shears, are suitable. Curvy cuts are possible with a jigsaw or scroll saw, or professionally with a CNC milling machine.
Holes are best drilled with twist drill bits for metal. It is also possible to punch with a sheet metal punching machine. However, this does create a slight indentation on the cover plate.
The steel composite panel is connected and fastened with rivets or screws. For gluing, metal adhesives for aluminum (such as epoxy two-component glues) or strong double-sided adhesive tapes are suitable. Hook and loop strips such as Dual Lock are also suitable for re-closable fastening. An ideal adhesive to attach brackets on the back for hanging, for example, is the Weicon Flex+bond power adhesive
Custom cutting available. Choose your desired size! For more information about our custom cutting service, please visit Modulor Services.
Steel LDPE composite board, white (custom cutting available)
3 Variants
custom cutting
1220 mm x 1525 mm
1220 mm x 3050 mm