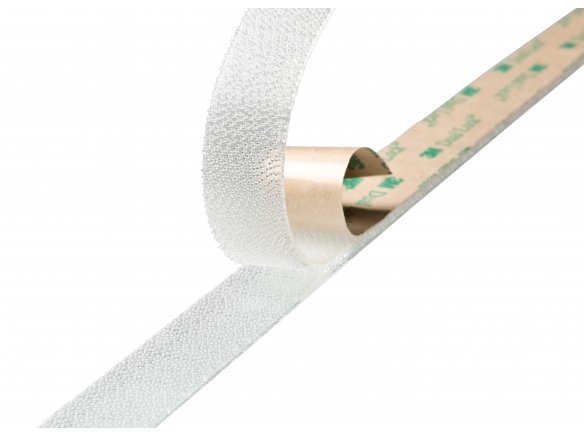 one-sided self-adhesive polypropylene band with 110 super fine tiny plastic hooks per square centimetre, th = 1.7 mm (when closed), temperature resistant to 50 °C (short term to 70 °C), transparent; bonding agent: acrylate adhesive
Attributes: 110 tiny plastic hooks per square centimetre provide an incredible adhesive strength for this version of the hook and loop fastener. In contrast to hook and loop fasteners with hook and eye sides, the Dual Lock is made up of only one tape that sticks to itself. When bound together the tape is about 2 mm thick. It is equipped with a modified acrylate type self-adhesive, has a very high initial adhesive strength and will stick to PE and PP plastics.
Applications: The classic areas of use for this pressure-sensitive fastener, which comes in different versions, include: removable affixing of panelling both indoors and in autos, attaching heavy presentation boards at trade shows as well as all other instances where removable constructive attachments of two-dimensional materials are required.
3M Dual Lock press seal, SJ 4570, thin, w = 25.4 mm
Note
The minimum purchase quantity in the online shop is 1 running meter and in the store 0.5 running meters. Please note that running meter or roll cuts are excluded from exchange.