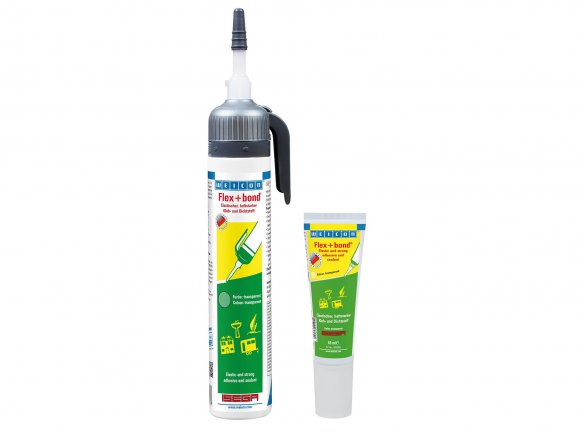 powerful one-component POP mixed polymer adhesive and sealant
long-lasting elasticity
paintable
UV resistant
weather resistant
sandable
isocyanate-free
extremely tacky, single component adhesive made out of POP copolymer, permanently elastic, can be painted, UV stable, weather resistant, can be sanded, isocyanate-free, temperature resistant from -40 °C to +90 °C (short-term to +130 °C in white, grey, black)
Weicon Flex + Bond is a glue and sealing compound with high adhesive strength which was designed for universal use. It is highly elastic when cured and, in contrast to silicone, can be painted over (and that means right away "wet into wet" – but test it out first!). The chemical basis is a so-called silanized polyoxypropylene (POP) which bonds through air moisture.
This adhesive hardly shrinks during curing, doesn't leave behind any silicone soiling, is UV resistant and weather resistant. Its rapid curing (3 mm in the first 24 hour; builds a skin after 25 minutes in the case of the coloured and 10 minutes for the transparent version) makes it possible to use it in both production and construction work as well as in repairing and restoring work. It will bond practically all metals, woods, plastics, glass, ceramic, stone, etc.
Weicon Flex + Bond is, in contrast to other elastic adhesive and sealing compounds, isocyanate-free and contains no solvent.
Because the tube version of this adhesive has a relatively large opening, we recommend that you use a tapered dispense tip for fine bonding work. Please note that only the cartridge version comes with a tapered dispense tip.
Weicon Flex + Bond
3 Variants