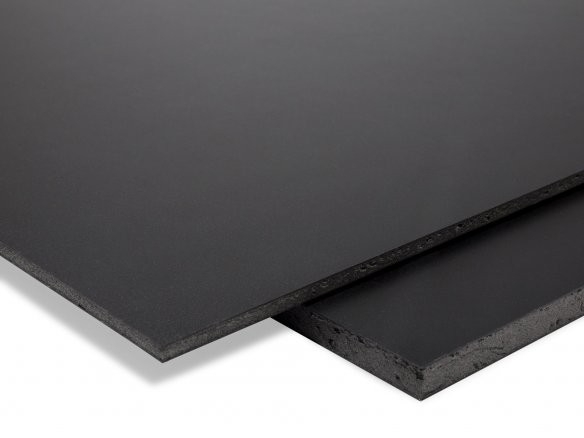 PVC-free
For indoor use
Moisture resistant
Ideal for laminating
Optimal results in direct digital printing
Warp-resistant and lightweight
Excellent planarity even in large formats
Precise edges
Panel core

Black polystyrene hard foam core

Cover

Black Stadurlon plastic panel (PVC-free), satin finish on both sides, with protective film on both sides

Weight

5 mm thickness: 1.9 kg/m², 10 mm thickness: 2.19 kg/m², 19 mm thickness: 2.41 kg/m²
Viscom Sign Easyprint is a layered board consisting of a lightweight polystyrene foam core sandwiched between two sturdy Stadurlon plastic panels. Stadurlon is a PVC-free, high-performance plastic with a pressure-resistant and scratch-resistant surface, and is optimally printable in direct digital printing or screen printing. In addition, Stadurlon can be bent many times without breaking.

The material of the black version is resistant to moisture, but, unlike Viscom Sign Easy Print in white, it is not weatherproof. Therefore, the panel should only be used indoors. With board thicknesses of 10 and 19 mm, the Viscom Sign Easy Print in black complements the paper-backed Kapa Graph and Foamboard black panels, which are only available up to a thickness of 5 mm.

Viscom Sign Easy Print is used in sign production, trade shows, and shop construction, the manufacture of displays and furniture, as well as a laminating board. After slitting or V-milling the back of the plate, three-dimensional shapes can be realized by folding or bending.

Due to its low weight and high flexural strength, the layered panel can be easily transported in large formats and mounted without much effort.

Up to a thickness of 10 mm, the panels can be cut with a little bit of practice with a box cutter. This is best done in several cutting passages, where the cutter is guided by a thick cutting ruler for a right-angled cut. More precise cuts can be achieved when sawing with carbide-tipped saw blades on a panel saw, circular saw, or jigsaw.

Care must be taken when gluing and varnishing the Viscom Sign Easy Print panels, as the polystyrene foam core is dissolved by solvent-based adhesives and paints. A surface bonding is best achieved with strong, double-sided tape or double-sided adhesive film. Hook and loop tape is suitable for re-closeable fastenings.

Viscom Fix is ideal for bending or making round objects. For bending, a V-shaped groove is milled at the desired bending point on the back of the panel. Part of the core and the plastic panel are then left on the front and can be folded by hand. For bending to a round shape, slot grooves are milled onto the back side of the plate using the tongue and groove notch method.

To protect the edges, or to provide the panel with a frame, we recommend the use of edge protection tapes or frame sections.
Custom cutting available. Choose your desired size! For more information about our custom cutting service, please visit Modulor Services.
Stadur Viscom Sign Easyprint lightweight foam sheet, black (custom cutting available)
7 Variants
5,00 mm
10,00 mm
19,00 mm
custom cutting
700 mm x 1000 mm
2030 mm x 3050 mm