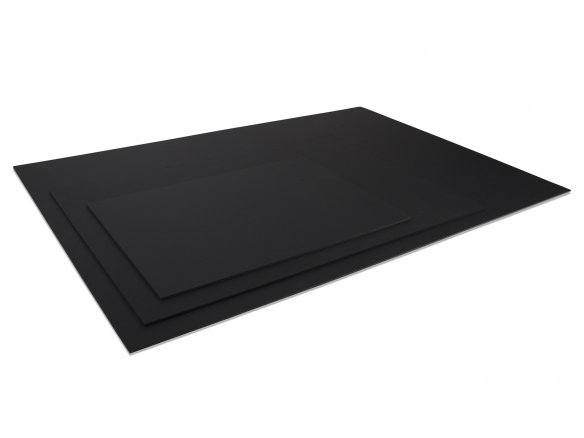 Proven for more than 50 years now!
Sheet core

dark gray PUR rigid foam core

Protective Film

matt, black colored cellulose cardboard (pH-neutral)
With the introduction of Kapa graph in 2003, the Kapa company entered into the graphics field with a covered board which had a matte surface. The covering consists of black cellucarton covering layers (pH-neutral). The boards are especially suitable for use as a presentation board because their matte, unvarnished surface lends itself very well to gluing. Like all the Kapa boards, Kapa graph has the unique polyurethane foam core which doesn't crumble or flake when cut and which is compatible with adhesives and paints containing solvents – all of which also makes Kapa graph a wonderful model making material.
The black version of Kapa graph is a good alternative to Kapa color because that product´s plastic surface does not take well to gluing. Its core, it should be noted, is not really that black (for reasons of production technique it is only very dark grey). If that is a problem, you can always make use of a black foamboard but in the knowledge that the disadvantages of polystyrene rigid foam cores must be accepted! (these include a less than perfectly flat plane for layouts, more crumbling when cutting, etc.).
We will cut Kapa boards to any size you want but you should know that you will be charged for the whole board because any remainders would be of no use to us. Check out our custom cutting service information regarding this subject.
Kapa graph black
3 Variants
500 mm x 700 mm
700 mm x 1000 mm
1000 mm x 1400 mm
Note
Please note that we can only ship the large size per forwarding agency which means that there are higher shipping and handling costs.