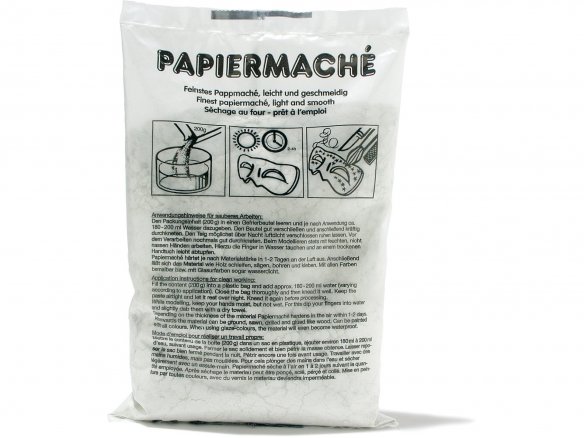 cellulose pulp, air-dried, comes in plastic bag
You can either make paper-maché from scratch (see: wallpaper paste) or use a prepared mix to which you only have to add water. Our odourless and skin-compatible ready-mix consists of fillers, cellulose fibres and glues. 200 ml water should be mixed together with 200 g of powder in a freezer bag (preferably) to make a paste by thoroughly kneading it, tying it off from the air and then allowing it to cure for at least 30 minutes (better would be several hours!).
If you are planning on subsequently rolling out the paper-maché, you should use a little less water because the material will otherwise be too gluey. The resulting modelling mass, which is very fine and supple, is great for making free-form small objects as well as for coating larger basic structures made out of cardboard, wire mesh, etc.
Once in paste form this mass will stick to almost every material and, if kept in an airtight container, will remain useable for a long time. Singly made or broken off parts can be glued in place by means of moistening the juncture area with somewhat moistened material. Paper-maché cures when exposed to the air in between 2 to 5 days, depending on wall thickness. The curing time can be shortened to 1 to 4 hours by using an oven that is heated to max. 80 °C. Once cured, the material is light as a feather, practically unbreakable and can be sanded, drilled, sawn and painted.
Papier-mâché modelling pulp, 200 g bag, white