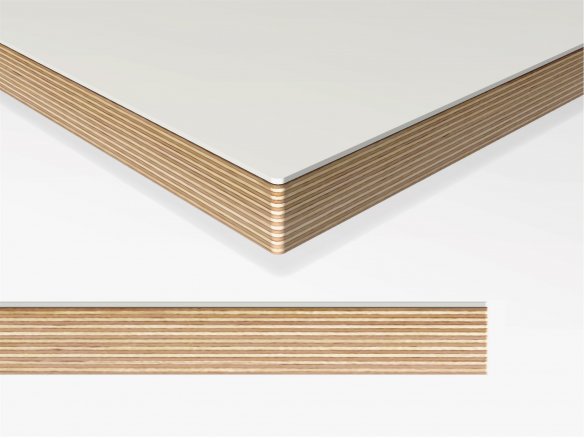 Our table linoleum colour samples help with the choice of colour
21 Linoleum colours
3 tabletop cores: MDF (Valchromat), multiplex and blockboard with wooden/plastic edge band
MDF and multiplex edges: open, finely sanded and moisture resistant
Coating

One side with coloured Linoleum (2 mm), rear side with backing paper

Tabletop material

MDF (Valchromat) in grey and anthracite (21 mm) or birch multiplex (20 and 26 mm) or blockboard with wooden/plastic edge band (30 mm)

Tabletop thickness

20 mm, 21 mm, 26 mm or 30 mm (including 2 mm Linoleum coating)

Tabletop size

MDF core: Max. 2.500 x 1.800 mm / Multiplex core: Max. 2.500 x 1.250 mm / With edge band: Max. 1.800 x 3.200 mm

Minimum order

0,5 m²
What color to choose? To make the decision easier, have a look at our table linoleum color samples (free shipping within Germany).
Stylish tabletops with linoleum coating. Exceptional haptics (feel) and 21 beautiful colours. The solid tabletop core grants everlasting life to your new table. It´s as easy as this: Click on your favourite colour, select the tabletop core, enter your desired dimensions and take a seat.
The minimum order quantity of a linoleum tabletop is 0,5 square meter.
Our top quality linoleum tabletop has a radius dimension of 3 mm at each corner. This small corner radius is the same dimension found on classic tabletops. If a number of tables with this corner radius dimension are put together, they will succeed in forming an almost unbroken surface.
The Format, Colour and Core of Your Choice
You can customize your linoleum tabletop by not only choosing your desired format but also by selecting from 21 different colours of linoleum and 4 different types of tabletop cores.  
Linoleum – A unique and durable tabletop surfacing material  
Linoleum is made from renewable raw materials such as wood, granulated cork, linseed oil and jute. Its homogeneous, matte but nevertheless non-slip surface is perfect for drawing or writing.  The material feels good to the touch, has anti-bacterial and antistatic properties and conducts electricity (its bleeder and contact resistance is between app. 109 and 1010 Ω). Because of these attributes, linoleum covered table tops are perfect for use in the therapeutic and technical realms. On top they make great writing tables but can be used as shelving or kitchen counters as well (short-term heat-resistance up to 70°C ).
A Valchromat, Multiplex or fir wood blockboard core
Whether an exquisite tabletop core made of MDF, a classic multiplex core or a fir wood blockboard core – they can all serve as the basis for your preferred linoleum coating. The edge of the blockboard core is equipped with a plastic edge band or with one of the 6 different real wood edge bands in our assortment.  
In the case of MDF that is coloured all the way through – the so-called Valchromat – you can choose between the colours anthracite and grey. The thickness of the MDF boards measures 21 mm. The multiplex core is comprised of classic birch plywood and comes in thicknesses of 20 or 26 mm. The thickness given for a tabletop is the total of both the core and the linoleum surface material (ca. 2 mm). The edges of the MDF and the multiplex cores are untreated, open-pored and finely polished and are also particularly moisture repellent and durable.
In the case of the blockboard with a thickness of 30 mm, there are 12 different edge bands to choose from. They can be either matte plastic (ABS) in the colour of your linoleum coating or a real wood edge band. Elegant to exotic results are possible when you combine one of the 22 linoleum colours with one of the following wooden edge bands: beech, birch multiplex, maple, oak, larch, zebrano, wengé, walnut, cherry, bamboo or smoked oak.
MDF tabletops require supporting rails beneath them because they are not all that sturdy - they will otherwise tend to sag even when spanning over a relatively short distance. This makes them particularly suitable for use with our Y table systems. The multiplex panels that are only 20 mm thick require rails for support when serving as tabletops while those that are 26 mm thick can indeed be lain on a 1300 mm wide E2 table frame without the need for the tabletop supporter accessories.
Good to know
Care and cleaning of linoleum is best done with special agents like Harell care and cleaning set for linoleum, which can be found in our product assortment. If you want, the edge can be treated and sealed with Biofarben hard oil or work top oil.
The colour of the linoleum coating that you see at the time of delivery will change slightly with time. The reason for this is the light yellow "drying-oven film" which will eventually disappear after the coating has been out in the daylight for a number of hours.
Linoleum tabletop, 3mm corner radius, custom cutting
210 Variants
20,00 mm
21,00 mm
26,00 mm
30,00 mm
MDF anthracite
MDF grey
Multiplex
Edge band
Note
Along with the colour of the linoleum, please choose your desired edge band as well. Please note that for the colours olive-grey 4169, medium blue 4140 and violet-grey 4172, no (exact) fitting edge band is available; it is therefore recommended to select a MDF or multiplex core or a blockboard with plain wood edge band instead.
Accessories and Related Products