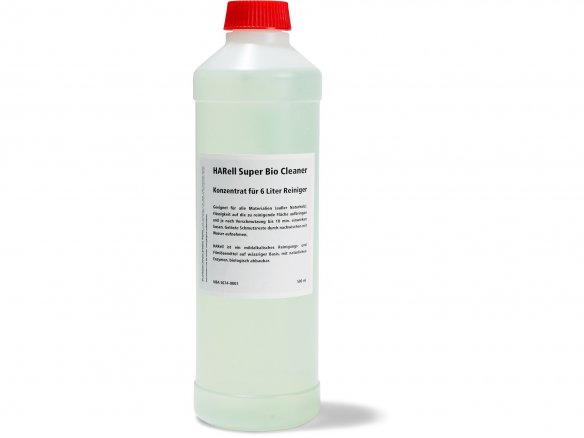 mildly alkaline water-based cleaner and film remover, colourless, contains tensides, soap, water soluble solvent, solvent mediator, phosphates and enzymes, bio-degradable, depending on the level of protection desired it can be used pure or thinned with water up to 1:10
Description
Hazard warnings
The Harell linoleum cleaner is a mildly alkaline and water-based cleaning and film-removing agent. It contains tensides and soap as well as water-soluble, non-toxic solvents, solubilizer, phosphate and natural enzymes.
The phosphate and enzymes contribute greatly to the natural but thorough cleaning action of this cleaner even when faced with stubborn soiling. They also negate the need for aggressive alkalines which makes them seem especially gentle to materials; the resulting substances are additionally non-hazardous to health or the environment. Persons with damaged skin or sensitive skin should avoid longtime contact with the cleaner as much as possibleor should just wear gloves.
Harell will remove any kind of dirt or soilage from any working surface or floor with the exception of unsealed wooden floors and is particularyl capable of removing stubborn protein, starch and fat containing contaminations because of its special combination of ingredients. When used in high concentration even things like aged or weathered wax and polymer films can be removed so that a new maintenance treatment can be undertaken. This cleaner can be mixed with water in any ratio and is fairly free of odours caused by chemicles like ammonia.
Before use, Harell cleaner can be thinned with water up to a ratio of 1:10 depending on the type or heaviness of the dirt or film to be removed - it should then be applied to the surface to be cleaned (from which all loose dirt has been removed). After allowing its cleaning action to work for up to 10 minutes (again, depending on the level of contamination), a cloth or scraper or machine be used to further the process, after which the removed soil and dirt should be collected. Wipe clean with a wet cloth and rub dry. Best results are obtained if you work in sections.
Before using it for a large area cleaning we recommend that you make a preliminary test on an inconspicuous spot to determine the best concentration ratio and the tolerance of the surface you are working on. Care should be taken during the job that there is enough air circulation. 
Danger, 2-(2-Butoxyethoxy)ethanol (vgl. Butyldiglykol) = 5 - < 10 %, Alkohol, (C12-C14), ethoxiliert >2-10 EO = 5 - < 10 %, Tetrakaliumpyrophosphat = 5 - < 10 %, Benzolsulfonsäure, 4-C10-13-sec-alkyl Derivate = 1 - < 5 %, 2-Phenoxyethanol = 1 - < 5 %, Fettsäuren, C12-18- und C18-ungesättigt = 1 - < 5 %, Borsäure = < 1 %, (VOC-Gehalt = 12,984 %), Ätz-/Reizwirkung auf die Haut: Hautreiz. 2, Schwere Augenschädigung/Augenreizung: Augenschäd. 1
Hazard warnings
H315: Causes skin irritation.
H318: Causes serious eye damage. (not needed beside H314)
Safety instructions
P264: Wash … thoroughly after handling.
P280: Wear protective gloves / protective clothing / eye protection / face protection.
P302+P352: IF ON SKIN: Wash with plenty of water / …
P305+P351+P338: IF IN EYES: Rinse cautiously with water for several minutes. Remove contact lenses, if present and easy to do. Continue rinsing.
P310: Immediately call a POISON CENTER / doctor / …
P321: Specific treatment (see … on this label).
P332+P313: If skin irritation occurs: Get medical advice / attention.
P362: Take off contaminated clothing.
Harell linoleum cleaner, plastic bottle, 500 ml