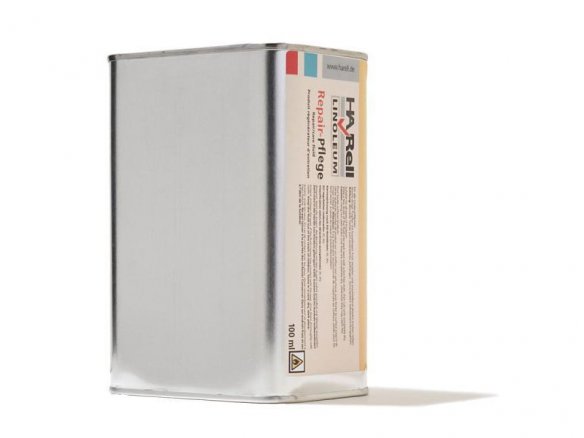 impregnating and necessary care oil, colourless, contains linseed oil and natural tree resin, requires 5 to 10 g/m² of flooring
Description
Hazard warnings
Regular maintenance with the Harell linoleum care oil renews the protective, UV absorbing and disinfecting seal on linoleum´s surface with each application and assures a long service life. As a general rule, all dirt and soiling and spilt liquids should be removed immediately from linoleum so that these will not have time to work their way into the surface.
After thoroughly cleaning the surface and after it has been allowed to dry completely, the care oil should be poured onto a lint-free cloth and applied to the linoleum in an extremely thin and even coating using a circular motion. The final step is to rub the surface until it is completely dry with a soft cloth or a polishing pad. The area being worked on must be rubbed until it is absolutely dry because any areas that remain moist will end up being glossy. You will need about 5 to 10 grams per square metre. 
We recommend that you carry out a preliminary test on a small, inconspicuous spot before undertaking a large area applicaition. Linoleums that have been treated with a waterproof seal by the manufacturer can be incompatible with this care product - a circumstance that will be obvious because greasy, shiny spots will appear.
Danger, Kohlenwasserstoffe, C10-C13, n-Alkane, iso-Alkane, cyclische Verbindungen, <2% Aromaten = 60 - < 65 %, 2-Ethylhexansäure, Zirconiumsalz = < 1 %, (VOC-Gehalt/Wert = 62,5 % (606,25 g/l)), Aspirationsgefahr: Asp. 1
Hazard warnings
EUH066: Repeated exposure may cause skin dryness or cracking.
H304: May be fatal if swallowed and enters airways.
Safety instructions
P101: If medical advice is needed, have product container or label at hand.
P102: Keep out of reach of children.
P103: Read label before use.
P301+P310: IF SWALLOWED: Immediately call a POISON CENTER / doctor / ….
P331: Do NOT induce vomiting.
P405: Store locked up.
P501: Dispose of contents / container to …
Harell linoleum care oil, square can, 1000 ml
Note
Cloths must be hung out to dry after use with this care product because otherwise spontaneous combustion may occur. Keep away from children! And please read all the instructions on the container!