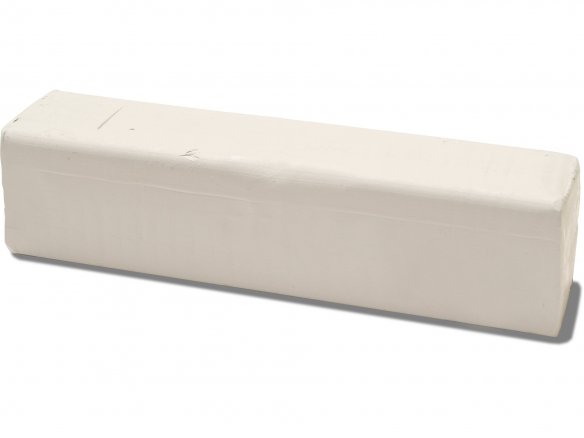 material

non-drying modelling clay made from binding agents (microwax among others), fillers (zinc stearate, magnesium and micro hollow globules among others) and dyes
The principle advantage of InDeClay (Industrial Design Clay) is its light grey colour, which makes it especially good at depicting surfaces and edges on models. The neutral light grey colour is also definitely better suited for presentations than the classic brown clay colour. When working with various blades, the light grey colour has the advantage that the light-coloured traces resulting from the processing are not really noticeable. A model will require a lot less reworking in order to produce a uniform surface. The homogeneity also makes further processing on a computer that much easier – in digital image editing a model made with InDeClay can be quickly coloured or enhanced.
In terms of technical specifications, InDeClay is comparable to Tecclay: it is 100% sulphur free and likewise much lighter in weight than conventional types of clay. The pre-heating temperature of 50-55 °C is also identical. The given upper temperature should not be exceeded because overheating can lead to the wax content of the clay becoming liquefied. Warming the clay up slowly over a period of about three hours produces the best results.
The excellent workability characteristics are also in line with those of TecClay: it is odourless, oxidation free and has a solid surface. As a result, its edges are extremely sturdy (hold up in a wind tunnel) and the clay lends itself to being milled. It has very good adherence qualities to a degree that even applying small amounts in order to, for example, fix damaged areas, is not a problem. (If you want to apply larger amounts of the clay on a surface that has already cooled, you should definitely warm up the "old" surface beforehand.) InDeClay can practically be stored forever if kept at constant temperatures from 10 to 30 °C; it remains permanently elastic and will not harden.
Although this clay is sulphur free, it should not be used with addition-crosslinked Silicones because it contains iron oxide pigmentation, which, upon contact, can inhibit silicone cure. We therefore basically recommend that any moulds made from clay models should only use condensation-crosslinked silicone because the risk of inhibition is substantially less. As an alternative, moulds can be made from clay models using plaster based materials or elastic PUR resins.
InDeClay, lightweight, light grey, bar app. 580 g (app. 57 x 57 x 220)
Note
In the case of the light grey InDeClay the name TecClay has been, for whatever reason, stamped into the material by the manufacturing division. Please just ignore this irregularity.