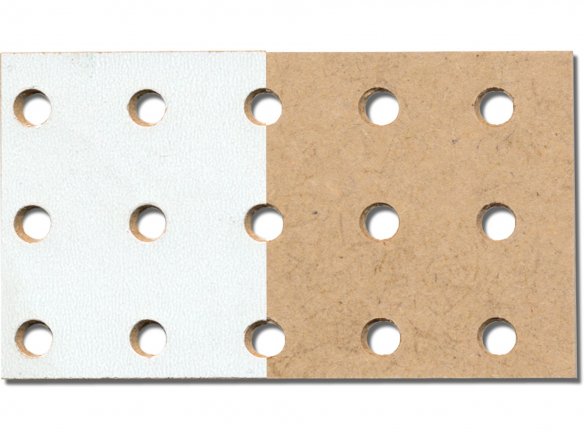 high density fibreboard, perforated, smooth/smooth, one side painted white, th = 3.0 mm
Perforated fibre board is an interesting material for making furniture or for interior fittings. For example, a closet with doors made from perforated sheets provides good ventilation or perforated panelling in combination with PERFORATED BOARD HOOKS can serve as a modular coat rack…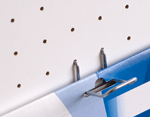 A perforated sheet with the designation RG 5/15 has round perforations in straight rows that have a diameter of 5.0 mm and a spacing of 15.0 mm (spacing = the space between the holes plus one hole width).
The HDF panel (high density fibreboard), which is smoother and has a higher density than MDF, is a more solid alternative to hard particle board. It has a very flat and smooth surface that can be used without the necessity of any further treatment. As with MDF, HDF should be worked on using carbide tipped cutting tools because the high density of the panels tends to cause increased wear and tear to normal blades.
FYI: for years we have used shelves in our Berlin store that are made from MDF WITH PRIMED SURFACE, WHITE and back panels made from HDF PERFORATED SHEETS, ONE WHITE SIDE. No reason you can´t do the same!
Custom cutting available. Choose your desired size! For more information about our custom cutting service, please visit Modulor Services.
HDF perforated sheets, one white side, 3.0 x 1000 x 2600 mm, RS 5/15
Note
Custom sizes of MDF and HDF boards are not available by delivery. Both materials have very high raw densities so that packages quickly become extremely heavy as well as large. This weight and size and the danger of damage during delivery meant that the handling process was extremely complex and it was also necessary to ship per forwarding agency. The resultant cost became too high to be attractive for our customers. However, both materials, including in custom sizes, are still available at our store in Berlin.