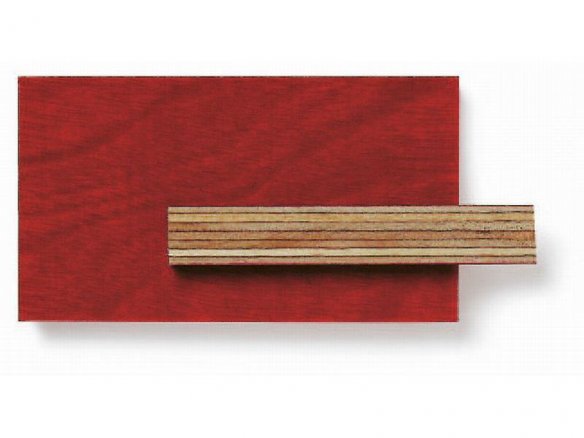 both sides coated with red phenolic resin film (approx. 120 g/m²), smooth/smooth, BFU 100 (waterproof adhesive bond), fibre direction parallel to the first named measurement (crosswise)
The satin-finished laminated birch plywood is primarily designed for use in furniture making and interior constructions but other products like flight cases (sturdy boxes for shipping machines and special equipment) can also be made from this material. The coloured versions correspond to DIN EN 13986 (norm for constructional plywood) and have good humidity-resistance and limited weather-resistance (BFU 100). When being sawn, the underside of the sheet tends to split out (clam-shell marked fracture) and this should be sanded by hand in order to avoid the fracture spreading into the laminate.
We will cut birch plywood to your specifications. When ordering, please refer to the Custom Cutting Service information.
Film-faced birch plywood, red, 18.0 x 1500 x 3000 (similar to RAL 3004)
Note
Before purchasing this material the following information should be taken into account:

- the colour and texture can vary from sheet to sheet.

The buyer can only really judge whether a sheet meets his requirements by inspecting it in person. We ask for your understanding that these plywood sheets are therefore only available at our shop in Berlin.