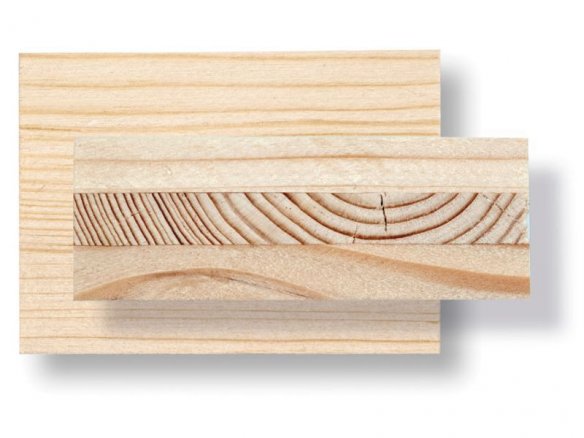 both sides sanded, waterproof bond (AW 100), AB Grade (conforms to EN 13017-1), emissions class E1 (
Three-layer panels are the heftier and sturdier alternative to plywood panels (XL plywood only to a certain extent) and, because they are made up of really thick solid wood lamellas that are bonded together, it is also of a higher quality. It is used for a variety of applications: for furniture, as the base panel for tables, doors and flooring, for shelves, as interior construction panels and decorative beams and, on account of its exceptional physical properties vis-à-vis construction, it also finds use as a structural panel for constructions with wooden frames.
Spruce wood takes well to cutting/sawing and gluing. It is very receptive to wood-stain as well as other types of wood treatment techniques. The panels are delivered to us already sanded with 60 grit sandpaper but, besides that, the surfaces have received no other treatment. They should therefore be treated, protected or beautified with wax, wood-stain, paint, work top oil or comparable agents before use.
The AW 100, waterproof bonding of the solid wood panels makes them suitable for use outdoors as long as they will not be directly exposed to weathering. For outdoor use it is, however, necessary to pre-treat the surface and edges with protective paint, oil or varnish. Because of their excellent stability, solid wood panels are approved for use for construction purposes as a load-bearing component or as a brace or reinforcement.
The emissions class E1 refers to the current standard and assures you that the bonding of this panel is practically free of formaldehyde. You should keep in mind that all wood panels naturally contain some amount of formaldehyde – and the human body produces it as well…
We will cut these three-layer panels to you specifications if you desire. Please take note of the relevant information under Modulor Services.
Three-layer wood panel, spruce, 27,0 x 2500 x 2050 mm