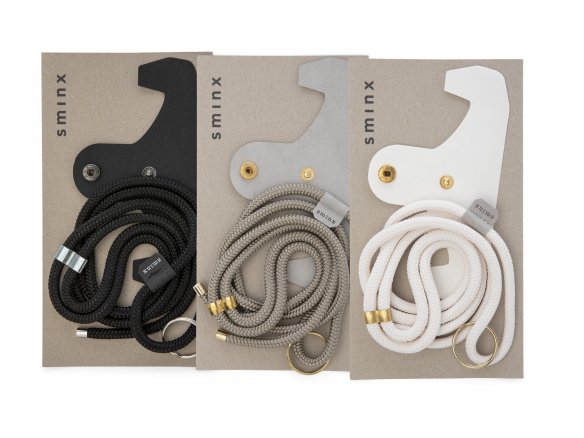 Super long smart phone cord
Adjustable length
Phone Adapter for all smartphone sizes
Material

Braided rope

Connectors

Brass or galvanized steel

Thickness

6 mm

Length

1500 mm
The set consists of a multi-band and a phone adapter
Sminx are smart strings made in Kreuzberg, Berlin. These cell phone chain sets each consist of a classic sminx multi-band and a phone adapter. Like with all sminx bands, you can attach not only the adapter and the phone but also keys, snap hooks, and even zip bags. The high-quality lanyard ensures you can always carry everything within reaching distance on you. It also lets you quickly take things on and off – depending on what you need to get your hands on quickly on any particular day. Speaking of hands, it's hand-free: You don't have to carry your phone around in your hands for hours anymore but rather can just let it hang on the chain. This also means that in the future, fewer cell phones will fall from Berlin's Victory Column, from rollercoasters, or into water.
The sminx phone adapter works with phones of all sizes and won't damage any phone case. It's made of wax paper and is folded around the case. It might sound like an unusual choice of materials and like the work of a do-it-yourselfer, but it holds damn well! It's just as exciting for bikers as for joggers with headphones and dance-happy party animals. Since Sminx are so distinctly long, you can easily wear them over a jacket or coat
Naturally applicable to all valuable objects: Even if the multi-band is located close to your person, you should always pay attention to your valuable objects and never let them completely leave your sight. Additionally, the phone adapter is subject to ordinary wear and tear. To make sure everything stays safely attached to the band even after prolonged use, it's recommended to simply replace the already heavily loaded adapter.
Please note: The phone adapter doesn't work with perfectly fitting hard-plastic cases. These cases fit the phone so snugly that nothing else can fit in between.
Sminx Smart Strings cell phone chain set
3 Variants