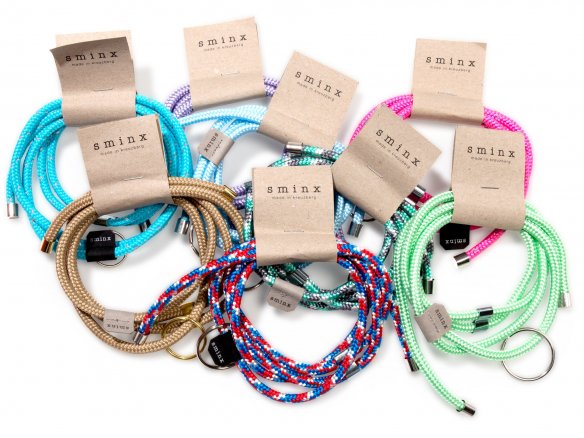 Super long cord in many colors and patterns
Adjustable length
Phone Adapter for all smartphone sizes
Supplementary sets with carabiners (snap hooks) or ring
Material

Braided rope

Connectors

Brass or galvanized steel

Thickness

6 mm

Length

1500 mm
Consists of: Multi-string Cord + optional Phone Adapter + optional Supplementary Set
Sminx - these are Smart Strings made in Kreuzberg. The braided ropes are available in discreet and bright colors and patterns. Its ends are cleanly covered with a plain brass or galvanized steel cap. The length-adjustable multi-string cords are more than just ordinary lanyards. It's not just electronic door badges on screwed-locked snap hooks or classic key rings that you will find hanging on these functional statement necklaces. Zippered bags, smartphones, and much more are always at hand on the lanyard. Everything can easily be mounted and dismounted - depending on what should be quickly at hand on this or that day. Apropos Hands: The hands are free. Especially the smartphone no longer has to be carried by hand for hours; it can simply be dropped on the cord. This also means that, in the future, fewer smartphones will fall from the Siegessäule in Berlin, out of the roller coaster, or into the water.
To ensure that a smartphone of any size sits securely on the cord, it needs the phone adapter. And with this, we come to the simple and ingenious innovation of Sminx. The Phone Adapter is suitable for all smartphone sizes and does not damage a smartphone case. It's made of faux leather and is folded around the cover. What sounds like an unusual choice of material and tinkering assembly, lasts an incredibly long time! Cyclists love them, as well as music-listening runners and dancing party-goers.
What began as the summer accessory of 2018 is becoming a non-seasonal trend. Because Sminx are extremely long, they can easily be worn over jackets and coats.
For all valuables, of course: Even if they are on a multi-cord close to your body, you should always take care of your valuables and not let them out of your sight completely. The Phone Adapter is also subject to normal wear and tear. To ensure that everything is securely fastened to the cord, even after long periods of use, it is recommended that the adapter is replaced as needed to avoid wear and tear.
Please note: The Phone Adapter does not work with exact-fitting, hard plastic cases. These are so close to the mobile phone that nothing fits in between them.
Sminx Smart Strings multi-use shoulder cord
26 Variants