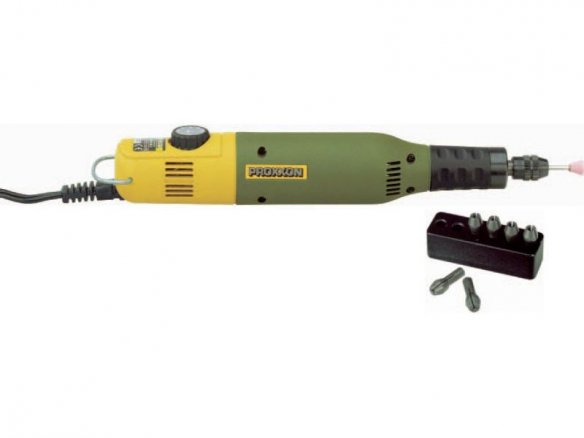 sturdy fibreglass reinforced polyamide housing with comfort sections in the grip area and a 20 mm collar that fits all Micromot system components, balanced motor with ground spindle that runs in a precision ball bearing, electronic revolution regulator, includes 6 steel collets (ø 1.0/1.5/2.0/2.4/3.0 und 3.2 mm) distribution voltage (power supply): 12 V revolution speed: can be regulated from 5,000 to 20,000 rpm power output: 40 W chucking capacity: 1.0 - 3.2 mm length: 220 mm weight: 230 g
Despite its low output, the Micromot 50/E still has a high amount of torque at lower rpm levels because of the phase angle control and feedback effect circuitry. This, together with its small diameter of only 35 mm and its low weight of only 230 g, makes it extremely easy to use and therefore the first choice for drilling, milling, sanding, brushing, cleaning, rust-removal, cutting, engraving and signature jobs.
The air-cooled motor means that this drilling and milling tool was designed for continuous operation, making it ideally suitable for professional modellers and dental laboratory technicians. Its high quality Micromot steel collet chucks hold even the smallest shaft in an absolutely centred position (accurate clamping) – there is no chattering and shaking when the tool is in service.
Like all tools of this size, the Micromot 50/E is driven by a low safety voltage of 12 V which does, then, require, a transformer but has the advantage that it allows the safe use of a coolant (wet sanding). The 20 mm collar allows it to be used in conjunction with the Micromot drill stand MB 140/S, the universal holder UH and the angle adapter WS 90. Six steel collet chucks for shafts with diameters of 1,0/1,5/2,0/2,4/3,0 and 3,2 mm are included with your order. As a power source we recommend Micromot transformers which produce at least 1 ampere.
A mains adaptor is necessary to operate this mill/drill unit. You can order one in our shop: Proxxon mains adaptor Micromot
Proxxon mill/drill unit Micromot 50/E, w/o transformer, incl. accessories (28510)