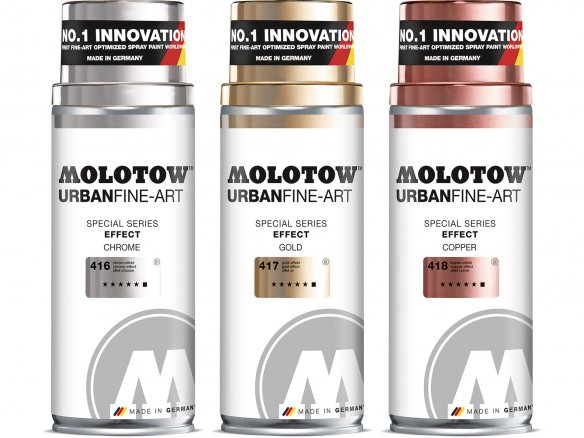 acrylic based paint, high gloss, excellent coverage (opaque), not smudge-proof, UV resistant
Description
Hazard warnings
The "Effect" subset of paints in Molotow´s Urban Fine-Art product line includes three highly pigmented, high gloss metallic effect sprays. Although these metallic paints have good UV resistance and produce a homogeneous metallic surface, they should nonetheless only be used indoors and on surfaces with low degrees of mechanical stress: this is because even though the finish is very glossy it is still sensitive to contact. Sealing the finish with a transparent spray or something similar is NOT recommended because it will tend to diminish the great glossy effect that is the paints best quality.
The best results are produced by applying thin coats at intervals of five minutes. A thin application is generally dust-dry in about five minutes depending on the thickness and is completely dry in a few hours, whereby it is then weather resistant. After use, the can should be turned upside-down and sprayed for about three seconds in order to clear the valve so it won´t be clogged when dried out.
Danger, Butan (<0,1% 1,3, Butadien) = 25 - < 50 %, Xylol (Isomerengemisch) = 25 - < 50 %, Ethylbenzol = 10 - < 25 %, Propan = 5 - < 10 %, Aluminiumpulver (phlegmatisiert) = 2,5 - < 5 %, (VOC-Gehalt = 85,38 %), Kupfer = 5 - < 10 %, Ethylbenzol = 5 - < 10 %, (VOC-Gehalt = 81,71 %), Aerosol 1, STOT RE 2, Skin Irrit. 2, Asp. Tox. 1, Aquatic Chronic 3
Hazard warnings
H222+H229: Extrem entzündbares Aerosol. Behälter steht unter Druck: kann bei Erwärmung bersten.
H315: Causes skin irritation.
H373: May cause damage to organs through prolonged or repeated exposure .
H412: Harmful to aquatic life with long lasting effects.
Safety instructions
P101: If medical advice is needed, have product container or label at hand.
P102: Keep out of reach of children.
P103: Read label before use.
P210: Keep away from heat, hot surfaces, sparks, open flames and other ignition sources. No smoking.
P211: Do not spray on an open flame or other ignition source.
P251: Do not pierce or burn, aven after use.
P302+P352: IF ON SKIN: Wash with plenty of water / …
P332+P313: If skin irritation occurs: Get medical advice / attention.
P410+P412: Protect from sunlight. Do not expose to temperatures exceeding 50°C / 122°F.
P501: Dispose of contents / container to …
P273: Avoid release to the environment.
Molotow Urban Fine-Art, Effekt
3 Variants