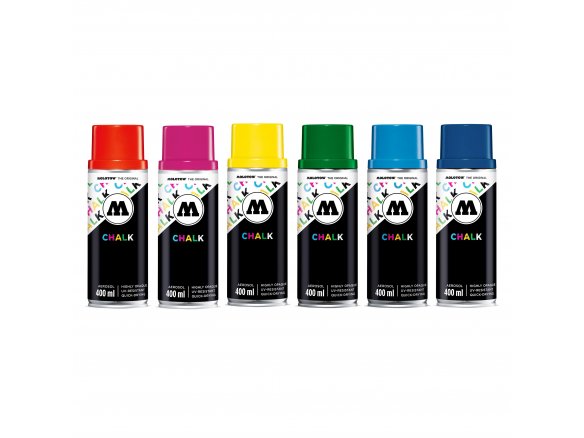 coloured chalk spray for markings, etc., not permanent, not smudge-proof (can be wiped away with water), UV resistant
Description
Hazard warnings
Urban Fine-Art Chalk is a richly pigmented chalk spray that can be used for temporary purposes. You can use it to mark certain areas, to make lettering on display windows, etc. If, however, it is sprayed on, for example, canvas and you want to make the application permanent that is indeed possible - just like one does with drawing chalk by employing a fixative. For our purposes the Fine-Art varnish products can be used as the sealant. The highest degree of colour intensity is achieved by applying a white primer on the substrate - the easiest way to do this is with the Urban Fine-Art Filler because you can be certain it is compatible with the Molotow spray.
If not fixed (sealed), the Urban Fine-Art Chalk will disappear with the first rain or when wiped with water. That is the easiest way to remove it from smooth surfaces like glass whereby no residue will be left behind. In the case of porous, rough surfaces (stone, wall paint, etc.) a certain amount of rubbing and scrubbing will be necessary. If you are not sure how the paint will react it is best to make a preliminary test because we cannot guarantee that the chalk will always wash away completely!
Danger, Isopropanol = > 30 %, Butylglykol = 3,5 %, Propan = 5 - 15 %, Butan (<0,1% Butadien) = 15 - 30 %, (VOC-Gehalt/Wert = 60 % / 600 g/l), Flam. Aerosol 1, Eye Irrit.. 2, STOT SE 3
Hazard warnings
EUH018: In use may form flammable / explosive vapour-air mixture.
EUH066: Repeated exposure may cause skin dryness or cracking.
H222+H229: Extrem entzündbares Aerosol. Behälter steht unter Druck: kann bei Erwärmung bersten.
H319: Causes serious eye irritation.
H336: May cause drowsiness or dizziness.
Safety instructions
P101: If medical advice is needed, have product container or label at hand.
P102: Keep out of reach of children.
P210: Keep away from heat, hot surfaces, sparks, open flames and other ignition sources. No smoking.
P211: Do not spray on an open flame or other ignition source.
P251: Do not pierce or burn, aven after use.
P260: Do not breathe dust / fume / gas / mist / vapours / spray.
P262: Do not get in eyes, on skin, or on clothing.
P271: Use only outdoors or in a well-ventilated area.
P304+P340: IF INHALED: Remove person to fresh air and keep comfortable for breathing.
P305+P351+P338: IF IN EYES: Rinse cautiously with water for several minutes. Remove contact lenses, if present and easy to do. Continue rinsing.
P403: Store in a well-ventilated place.
P410+P412: Protect from sunlight. Do not expose to temperatures exceeding 50°C / 122°F.
P501: Dispose of contents / container to …
Molotow Urban Fine-Art, Chalk spray
10 Variants