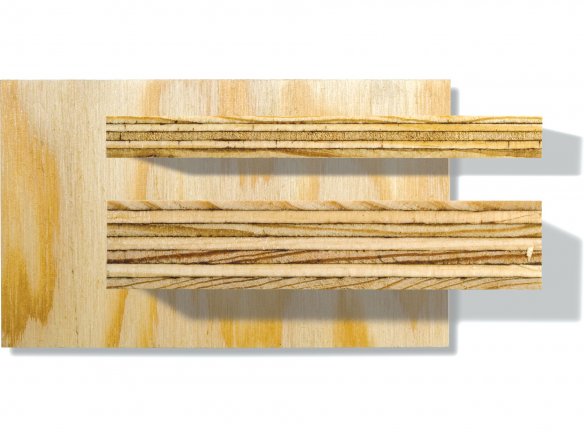 sanded on both sides, bonding is waterproof class 3 (conforms to AW 100), thickness tolerance ± 0,5 mm, E1 (emissions class 1, the lowest formaldehyde emissions as per DIN EN 13986), Grade l/ll, grain runs parallel to the first given dimension (lengthwise)
This maritime pine veneer plywood is the rustic styled, rougher version of a conventional plywood or a multiplex panel. The grain of the cover layers is richer in contrast and the side view much "busier". Maritime pinewood is familiar to those who have seen a tea chest – the wood is used for transport because it is somewhat less expensive than other plywood types but is just as sturdy and robust as its colleagues. The plies are glued together in a waterproof manner. In addition to using this plywood for tea chests, it is suitable for almost every other kind of rustic-style carpentry work (if flatness is not a requirement). When cutting this plywood, there is always the possibility that the veneer will break away at the cutting edge - for this reason we always recommend that cut edges be finished off with putty or edge bands.
One side/cover layer is Grade l quality, while the other side is Grade ll (Grade l is top quality, equivalent to "Grade A" in other countries). This means that the front side is free of knots but it could also be that there are indeed knot holes but that they have been plugged (maximum 5 per square metre); the back side does have knots, plugs and possibly patches (Grade ll).
Custom cutting available. Choose your desired size! For more information about our custom cutting service, please visit Modulor Services.
Maritime pine plywood (custom cutting available)
3 Variants
Note
Flatness cannot be guaranteed. An unavoidable result of the production process is that the widths of these panels can indeed vary from board to board.

Complete boards and custom sizes of pine plywood are not available by delivery. The material has very high raw densities so that packages quickly become extremely heavy as well as large. This weight and size and the danger of damage during delivery meant that the handling process was extremely complex and it was also necessary to ship per forwarding agency. The resultant cost became too high to be attractive for our customers. However, pine plywood, including in custom sizes, is still available at our store in Berlin.