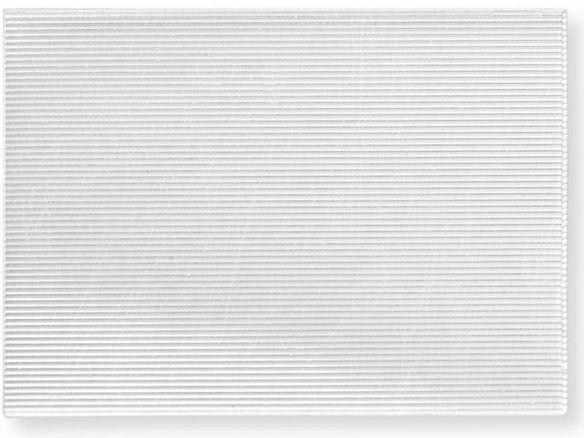 Material

Polyethylene terephthalate (PET)

Length unit

50 (linear) lenses per inch

Transmission 1

Smooth side facing the light source ca. 95 %

Transmission 2

Smooth side facing away from light source ca 73 %
Lenticular or "flip" pictures are familiar from the days of old postcards – change the viewing angle of the motif and, for example, that photograph of the Brandenburg Gate is no longer coloured but instead black-and-white or the young man suddenly has no clothes. And this effect is created without any optical aids – how can that be? Behind the film there is a picture that resulted from two (or more) variations of a motif being broken down into separate very narrow strips and subsequently being pressed into or next to one another. The fluted surface of the lenticular film lying on top of the picture consists of optical lenses; these are a series of adjacent longitudinally shaped lenses allow a view of only one of the two motifs depending on the viewing angle so that as the perspective changes the picture changes as well. In order to achieve this effect, a special image template like the one described above is required. The template can usually be produced by means of software developed for that purpose (we do not have the software in our assortment). The lines that become visible arise in a vertical position in relation to the fluted structure of the film surface. If one adds a second film sheet that is turned 90 degrees vis-à-vis the first film, a flatter, more two-dimensional lighting will be the result. Then, depending on how the two film sheets are pushed or turned relative to one another, other light structures cab be produced. If the grid of lines is used with its structure facing the observer an additional diffusion (and anti-glare) effect will be produced.
Lenticular film
2 Variants
210 mm x 297 mm
710 mm x 1015 mm