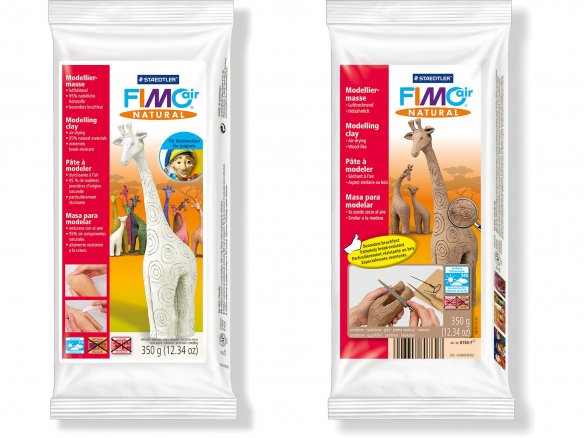 air-drying modelling clay from at least 95% natural raw materials
wood-like
high breaking strength
cured models can be reworked by drilling, gluing, painting and varnishing
Drying time

24 hours

Packaging

air-tight aluminium-PE composite

Weight

350 g
Fimo Air Natural is a ready-to-use, clay-like, water-based modelling material that dries in the air and can subsequently be easily reworked. It consists of 95% natural raw materials and the presence of cellulose fibres gives it a natural "woody" appearance. Once cured, the presence of long fibres means that the Fimo Air Natural becomes very hard and break-resistant and it is therefore great for making masks, puppets and marionettes.
When model making or doing particularly delicate work with this clay, tools like WOOD MODELLING TOOLS or A MODELLING KNIFE are very helpful. The surface acquires very interesting effects if patterns are pressed into it that can provide texture or designs. It is best to employ a sheet of foil as a working base because this will make removing your modelled piece from its substrate that much easier while at the same time keeping your workbench clean. When taking a work break, it is necessary to moisten your partially finished model with water and cover it in an airtight manner in order to prevent it from drying out in the interlude. Even when attaching pieces or during any model making work it is advisable to keep both the surface and your hands wet for the whole time.
When making larger models it is advisable to employ a core made out of POLYSTYRENE FOAM; in the case of smaller jobs or ones with protrusions, a frame made of STEEL CHICKEN WIRE can be utilized for stabilization purposes.
Fimo Air Natural cures in around a few days, the actual time depending on the thickness of the layers. The work piece should be turned successively during the drying process so as to assure an even drying on all sides. When curing, the water contained in the material evaporates and the work piece (model) will shrink somewhat and a slightly coarse and natural looking surface will appear.
Further work on your piece (drilling, gluing, painting, varnishing) can begin when it has completely cured. Painting work can be done with ACRYLIC PAINTS and tempera techniques.
Fimo modelling clay Air Natural 8150
2 Variants
Note
Fimo Air Natural modelling clay should not be cured in an oven or a microwave!