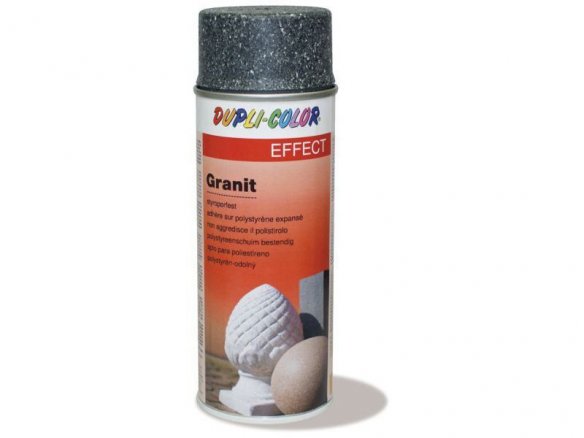 rock texture similar to granite, matte, works well on polystyrene, weather-resistant when coated with transparent lacquer
Description
Hazard warnings
Coloured coating can acquire a rock-like texture when using the granite spray. It is not only in the design of interior decoration, furniture and other such objects that this interesting effect can be utilized but in model making as well.
The spray can be used on metal, wood, glass, ceramic, stone, paper, cardboard, plastic and polystyrene. It has very good adhering quality and excellent coverage when applied in many coats. If a primer coat of the same colour as the spray is applied, the can will last a lot longer.
The unprotected spray coating should not be subjected to persistent moisture but if one or two coats of clear lacquer is applied the paint will be a lot more impervious to the elements.
Danger, Naphtha (Erdöl), mit Wasserstoff behandelte schwere = 25 - < 50 %, Propan = 10 - < 12,5 %, Butan (< 0,1% Butadien (203-450-8)) = 5 - < 10 %, Isobutan (enthält < 0,1% Butadien (203-450-8)) = 2,5 - < 5,0 %, (VOC-Wert (EU) = 503,4 g/l, 53,26 %), Aerosol 1
Hazard warnings
H222+H229: Extrem entzündbares Aerosol. Behälter steht unter Druck: kann bei Erwärmung bersten.
Safety instructions
P101: If medical advice is needed, have product container or label at hand.
P102: Keep out of reach of children.
P210: Keep away from heat, hot surfaces, sparks, open flames and other ignition sources. No smoking.
P211: Do not spray on an open flame or other ignition source.
P251: Do not pierce or burn, aven after use.
P260: Do not breathe dust / fume / gas / mist / vapours / spray.
P410+P412: Protect from sunlight. Do not expose to temperatures exceeding 50°C / 122°F.
P501: Dispose of contents / container to …
Downloads
Dupli Color deco granite spray
2 Variants