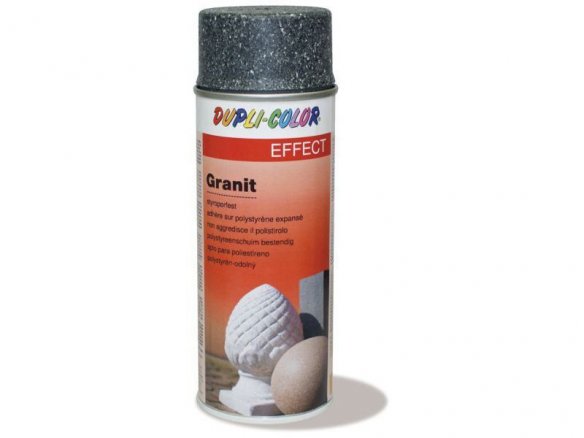 rock texture similar to granite, matte, works well on polystyrene, weather-resistant when coated with transparent lacquer, hazard warning: F+ extremely flammable
Coloured coating can acquire a rock-like texture when using the granite spray. It is not only in the design of interior decoration, furniture and other such objects that this interesting effect can be utilized but in model making as well.
The spray can be used on metal, wood, glass, ceramic, stone, paper, cardboard, plastic and polystyrene. It has very good adhering quality and excellent coverage when applied in many coats. If a primer coat of the same colour as the spray is applied, the can will last a lot longer.
The unprotected spray coating should not be subjected to persistent moisture but if one or two coats of clear lacquer is applied the paint will be a lot more impervious to the elements.
Dupli Color deco granite spray
2 Variants