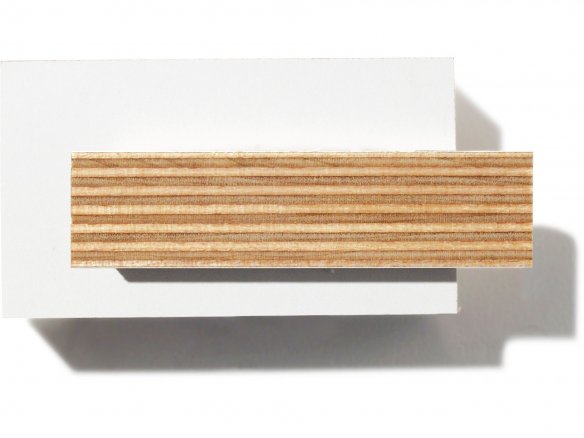 both sides coated with white melamine resin facing (440 g/m²), smooth/smooth. BFU 100 (waterproof adhesive bond)
For those who prefer wood panel materials whose cut edges are not treated but nonetheless want to use a white, impervious material, the melamine resin coated birch plywood is the perfect choice.
The material conforms to DIN EN 13986 (norm for constructional plywood) and has good humidity-resistance and limited weather-resistance (BFU 100). For outdoor use, the edges should be sealed because the veneer layers could otherwise swell due to moisture.
In comparison to the coloured panels coated with phenolic resin, working on these panels must be done with very sharp tools because the brittle coating can otherwise tend to tear. In addition, we recommend that you feed the material slowly when cutting it.
We will cut birch plywood to your specifications. For more information about our custom cutting service, please visit Modulor Services.
Birch plywood, melamine resin coated, white, 18,0 x 1250 x 2500 mm
Note
The surface of this plywood sheet is not completely homogeneous because the melamine resin coating does not completely cover the textural configuration of the underlying plywood. As a result, the colour and texture can vary somewhat from sheet to sheet.

The buyer can only really judge whether a sheet meets his requirements by inspecting it in person. We ask for your understanding that these plywood sheets are therefore only available at our shop in Berlin.