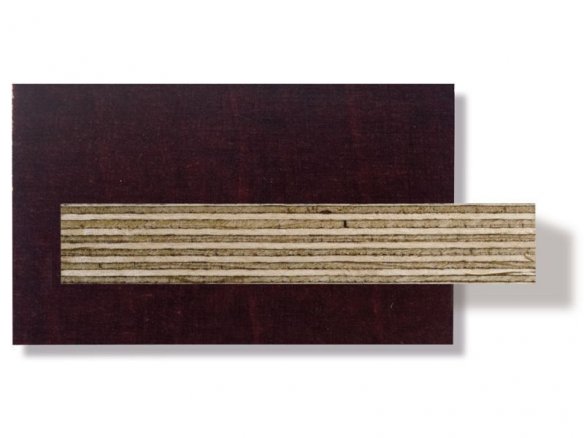 both sides coated with dark brown phenol-resin film (app. 120 g/m²), sieve-like texture/smooth, BFU 100 (conforms to CE-Norm EN 636 weather-resistance norm for bonded construction plywood), E1 (emissions class for the lowest formaldehyde emissions as per DIN EN 13986), grain runs parallel to the first given dimension (crosswise)
This film-faced birch panel is in fact a plywood panel or, to be more precise, a multiplex panel. Its layer construction is just like that of a regular BIRCH PLYWOOD panel with the difference that both sides of the film-faced version are coated with phenol-resin, which makes the surface much more stable as well as water repellent. What is most special about this panel, however, is that one side is embossed with a screen or sieve-like texturing because this panel is very often used where a non-slip surface is needed. Otherwise it is exactly as sturdy as any other plywood, making it suitable for use in weight-bearing constructions, for making boxes or flightcases, for wall and concrete cladding or simply used as a worktop.
This film-faced plywood panel conforms to the DIN EN 13986 norms, which means that it is moisture and, to a certain extent, weather resistant (note: the untreated edges are particularly vulnerable). These panels can be used outdoors for the short term. Long-term use should be limited to exposed situations where at least a roof exists. If you want to use these panels in unprotected areas outdoors, the edges must be treated with a protective agent.
Custom cutting available. Choose your desired size! For more information about our custom cutting service, please visit Modulor Services.
Birch plywood, film-faced, screen embossed (custom cutting available)
2 Variants
Note
Before buying, please keep in mind that the brown tone can vary from sheet to sheet because of the nature of the production process. If you need a number of sheets with the same colour, please inform us of this requirement when ordering.